Kemi's Review of Longevity Cegonha Country Club, Portugal
26 June 2019

26 June 2019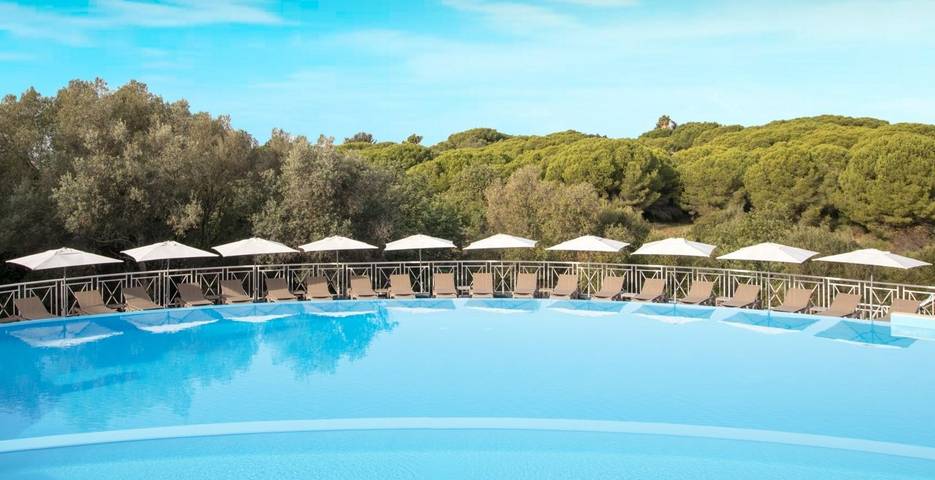 What is Cegonha and who is it for?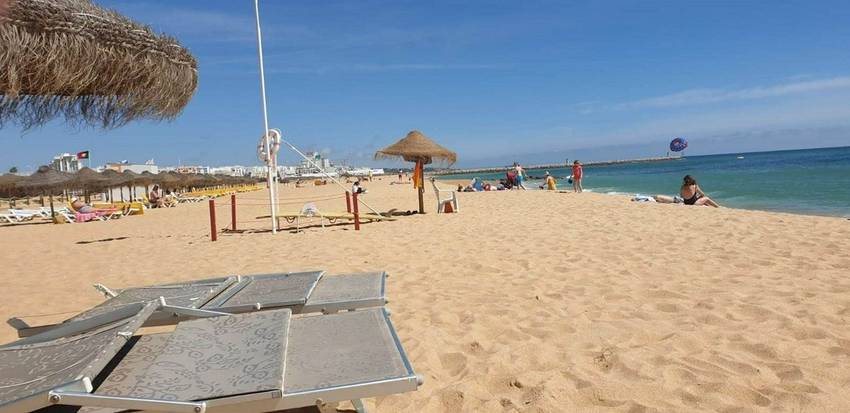 Longevity Cegonha Country Club is a boutique style wellness resort in Portugal, near the Algarve. Best suited to those who are looking for looking for peace and tranquillity as well as physical, mental and emotional wellness, it is great for solo travellers, friends or couples and anyone wanting to de-stress and relax.
It is perfect for those who enjoy healthy eating and detoxing, as well as fitness enthusiasts and people interested in fitness and holistic healing. Whether you go with a friend, partner, parent, or alone you will find that the commonality with all guests is the desire to have a time-out in a relaxed, and picturesque environment, eating nourishing food while exercising the body and soothing the mind.
Getting there and what's around
Just 30 minutes from Faro Airport, Ceghona is perched on the edge of a scenic protected nature reserve in the high end, exclusive area of Vilamoura. With majestic views from the resort, there are bikes with which to explore the local area including the around stunning Vilamoura Marina. Just past the marina is a golden sandy beach, a place where locals can be seen relaxing with picnics and ball sports. The beach is known to become busy in the summer months, but its length suggests there is plenty of space for the high season.
The scenery & surroundings
It is possible to explore the wild flowers, orange, and olive trees of the nature reserve on foot or by bike, and you can do this either in a group class or individually if you prefer. You can also take a bike down to the sandy beach, or the picturesque rockier water's edge. The concierge staff were more than happy to show us the exact route on the map and advise the best route to go, for speed versus scenery as well as how long to expect for the journey. In the end, we opted for the 10-minute shuttle ride down to the marina and beach where we spent a very pleasant afternoon. There was a lovely chilled out, bohemian feel to the area as we went out of season, all vibrancy without it feeling hectic. However, we were advised that in the summer months, you can expect a much busier feel at both the Marina and the beach.
The Hotel and Accommodation
On arrival we were given a tour of the Country Club and all the numerous amenities. The views, setting, ambiance, and peacefulness instantly make us feel a sense of calm as we strolled around the grounds, visiting the spa, restaurant, studio, gym, tennis courts and pool, which were all immaculately well kept, and extremely appealing.
With just 32 rooms, housed in 2 storey buildings, the resort has plenty of space and although it was at 80% capacity while we were there, it never felt crowded, and there were times when we felt as though we were the only ones around, emphasising the peaceful and tranquil nature of the resort.
The outdoor pool is in prime position to be heated by the sun during the day and there are loungers on one side with giant bean bags on the other for the ultimate chill time. The jacuzzi pool beside the pool is heated and adds a bubbly dynamic. There is a quaint little pond in the centre of the grounds, with frogs, turtles and fish and more beanbags to sit upon and while the hours away, engrossed in a book, or meditating.
I stayed in the Spa Suite room which is extremely spacious. It has a separate bedroom and living area, as well as a small kitchen, and spacious balcony, overlooking the green nature reserve. The classic rooms are also very spacious and have a kitchen and large outside space. On entering our room, we were instantly greeted by the comforting smell of the lavender oil burner. Each room is casual in style with all you need for a pleasant and comfortable stay.
Food and Restaurant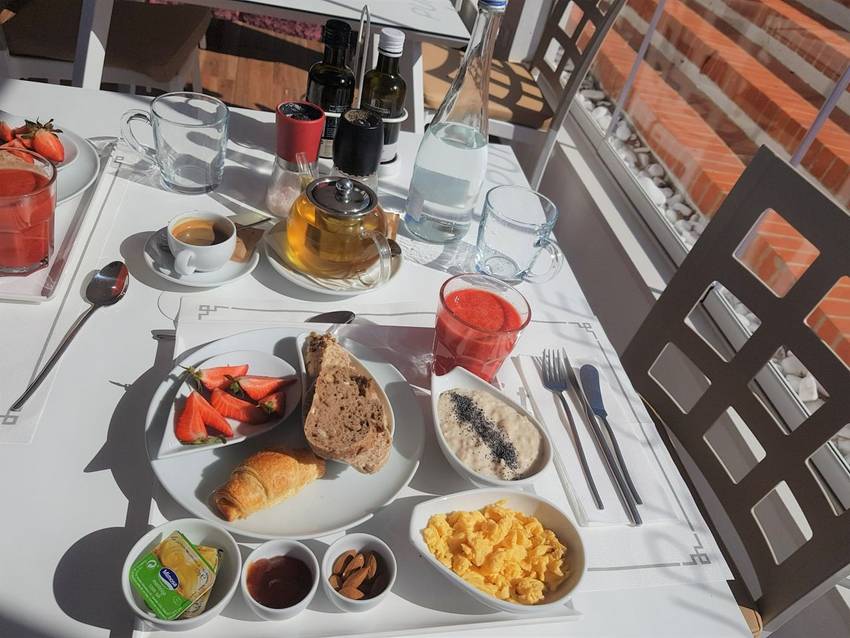 The small restaurant is perfectly positioned to enjoy the stunning views while al fresco dining on the terrace, next to the pool, and it is worth timing dinner to coincide with the impressive backdrop as the sun sets behind the rolling hills.
Although small, the restaurant serves up a wonderfully sumptuous menu for breakfast, lunch and dinner.  The food is extremely healthy, varied, well-presented and delicious. The menus are created using local produce and traditional Mediterranean flavours. We ate from the main menu and enjoyed hearty and healthy salads, lean meat, fish, roasted vegetables, and couscous. Meals were perfectly proportioned to ensure that we received all the essential nutrition, without over-eating and more importantly, were perfectly satiated.
Breakfast is particularly impressive, with freshly squeezed fruit juices, eggs, yogurt, cereal, pastries, fresh fruit, nuts and a choice of ginger, lemon, or mint infused teas. Again, helpings were perfectly proportioned ensuring that we were fuelled for the daily activities ahead. We even had our breakfast brought to our room one day, to enjoy our view simultaneously.
The Spa
The Spa menu is extensive and has an array of treatments. You can enjoy spa favourites such as aromatherapy massages, relaxing facials and body scrubs to fitness evaluations and personal training, and the more alternative therapies such as Reiki, Chakra balancing and Crystal Healing, and much more in between.
Visiting Ceghona with Health and Fitness Travel entitles you to a spa voucher of up to 100 Euros, which can be redeemed against any of the treatments, and it is advised to pre-book as the therapists are extremely popular.  The complimentary health suite is a wonderful experience and has a Himalayan salt room, infra-red sauna, sensory shower, ice treatment area and aromatherapy steam room. There is a lovely little zen garden in a small courtyard outside with a miniature rock pool water feature.
Fitness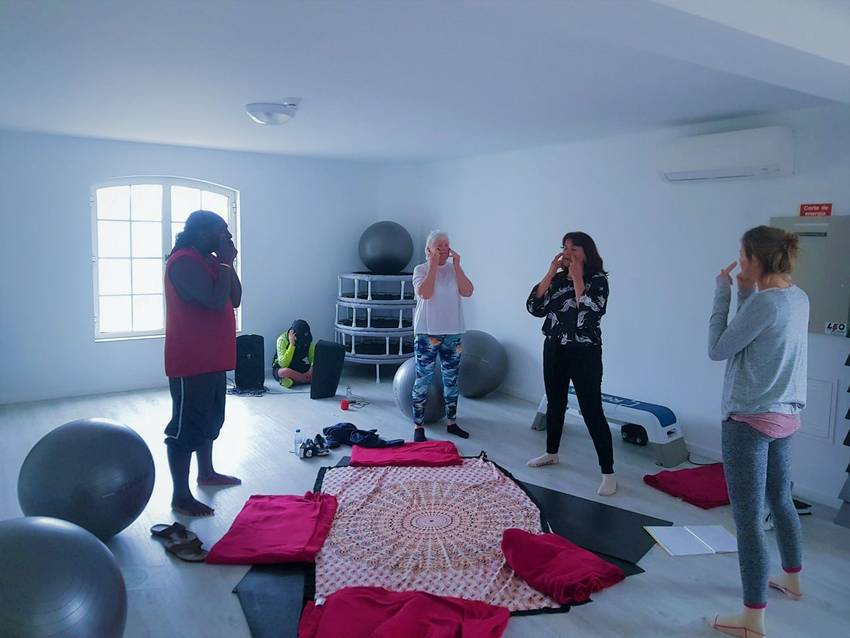 As my boyfriend and I both enjoy activity holidays, this break suited us perfectly due to the opportunities on offer. The well-equipped gym has running machines, free weights and a TRX machine for full body workouts. The tennis courts with free racket hire offer the opportunity for yet more fitness activity and the fitness classes including pump, Pilates, yoga and balance occur often throughout the week.
Programmes
The staff
The staff are all extremely friendly and professional, with no ask too great and no issue too futile. Of mentionable note was Pedro, the concierge, who was there to greet us most mornings, and who also took us into town in the shuttle, while offering general information about the local area, always with jovial conversation. The lovely ladies in the kitchen were also wonderful, remembering our preferences each morning and greeting us with bright warm smiles daily.
Highlights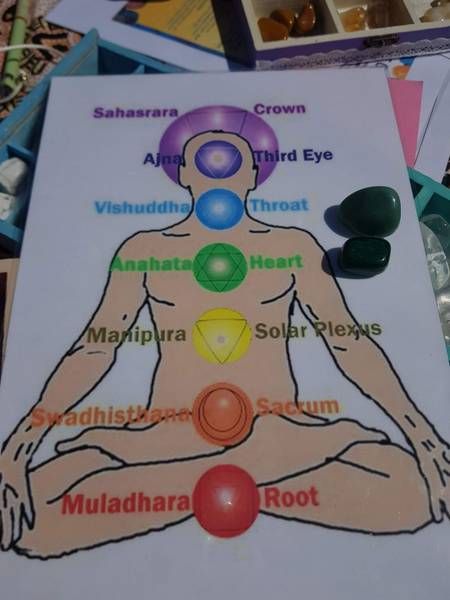 I joined the Crystal healing, and Astrology and energy healing classes and enjoyed them immensely. The holistic approach to wellness is something I am personally aligned with, and the learning guide - Rosana was extremely insightful and seemed like a friend who had known us for years. She even gifted us with a crystal from her personal collection! If we were able to stay longer, I would have loved to have done some 1-on-1 Reiki, or Chakra work with her.
Another highlight is the overall positive energy of the place. Every member of the team, every class, all the scenery and every element of the resort, lends itself to a positive, mental attitude. Here is a place, where you cannot help but find an inner peace and sense of calm.
How to book
To request a quote or for more information visit our Longevity Cegonha Country Club page.

Talk to one of our Travel Specialists on 0203 397 8891 or contact us here to discuss tailor-making your perfect wellness holiday.
Fact Box
Best time of the year to go: March to June and late August to October
Months to book in advance for: July and August
No. of Rooms: 32 rooms and suites
Check-in/check-out: 3pm and 12pm
Wi-Fi: Yes - excellent throughout the entire hotel
Children: Over-16s are welcome at certain times of the year
Reception/Room Service: 24 hours
Alcohol: Organic wines and cocktails are available
Nearest Airport: Faro Airport
Airport transfer time: 30 minutes
Address: 8125-507 Quarteira, Portugal