Paul's Review of Forte Village Resort, Sardinia
23 August 2018

23 August 2018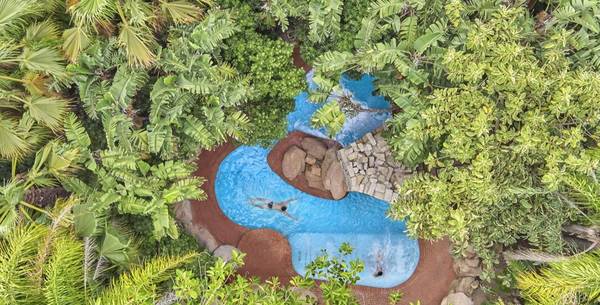 What is Forte Village and who's it for?
Set in a 116-acre green park Forte Village is a rare place designed for both adults and children. The expansive resort stretches out across the white beaches of Sardinia's south coast and is home to eight distinct hotels, an array of sports academies, shops, restaurants and entertainment facilities which are sure to keep the whole family entertained. This exquisite resort also offers the opportunity to discover nature's most powerful detox at Acquaforte Thalasso and Spa where you can enjoy the ultimate spa holiday and wellness experience.
Getting There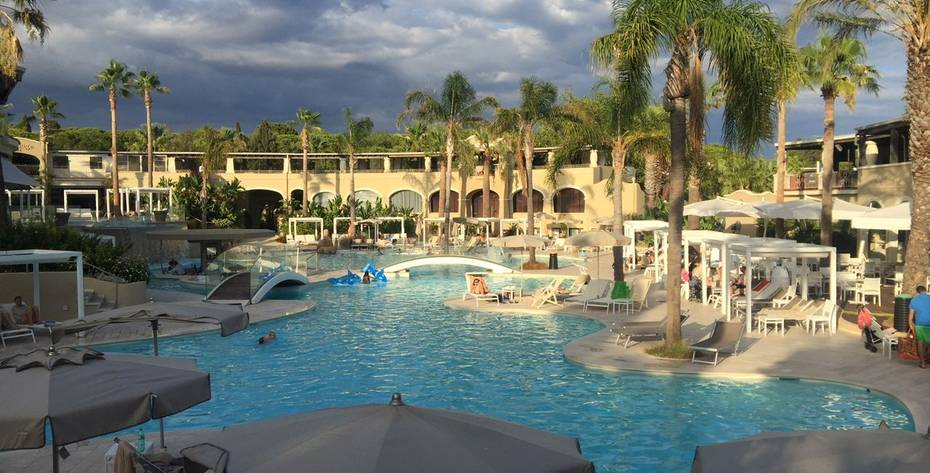 The UK is only a 2-hour 40-minute flight away from Cagliari Airport which is just 50 minutes from the resort. With this in mind, I decided to spend a couple days exploring Cagliari to get a taste of Italian culture before delving into my week of relaxation. I would particularly recommend paying a visit to the Roman Ampitheatre which is regarded by Cagliari Turismo as the city's most important public building of the Roman era! It's a truly beautiful and historic monument which had the capacity for up to 10,000 spectators to watch executions and fights between gladiators and animals.
After my mini cultural break in Cagliari I head to Forte Village where I'm going to take part in the Thalasso Detox programme for a much-needed mind and body cleanse. Upon arrival, I was shown to my room, not by foot, but by golf buggy. As I'm driven through the winding paths that weave throughout the resort, I can't help but sit in awe of its sheer size. As I whizz by bustling restaurants, sports academies, beautiful boutiques and stunning scenery it becomes very clear to me that I won't be needing to leave this resort any time soon.
The Hotel & Accommodation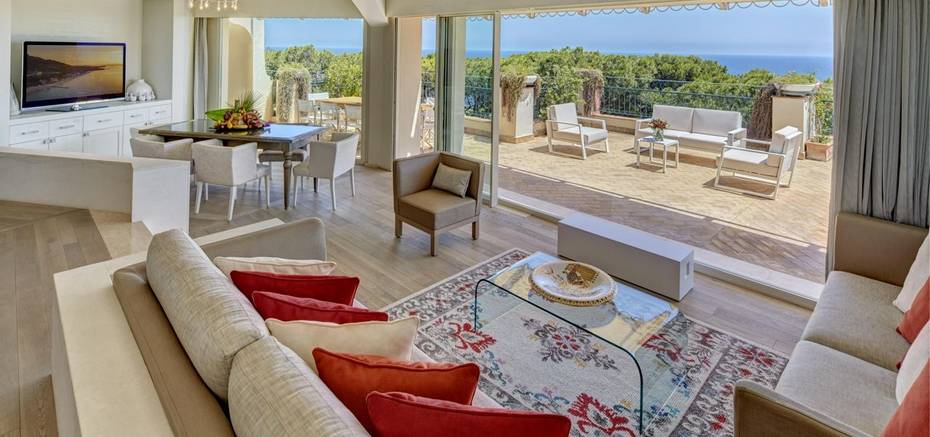 As my golf-buggy arrives at the Villa del Parco & Spa Hotel I am happy to see that despite the resort's large size, there are plenty of places for peace and quiet and this five-star hotel is definitely one of them. I stayed in the Luxury Room (30-40m²) which looked out onto a balcony with beautiful views over the garden. The room itself was very modern and stylish and the queen size bed made for an incredibly comfortable night's sleep. Although, I have to say that due to the expansive range of activities and spa treatments at my disposal, I didn't end up spending much time in my room until the evening!
The best part about Villa del Parco has to be its desirable location.  Set in the gardens of Forte Village Resort and just moments away from the enchanting Acquaforte Spa and its famous treatments I could not wait to start exploring my surroundings and begin my detox programme in the morning.
The Spa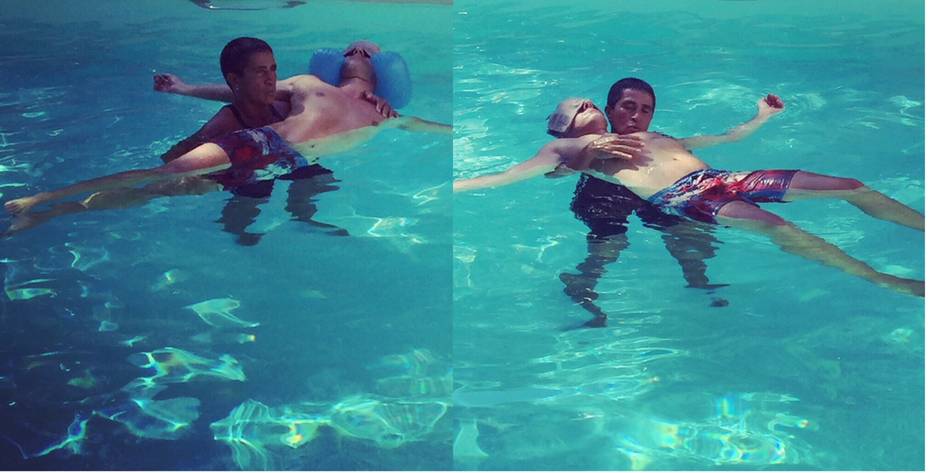 I found the whole spa and wellness team to be so helpful and friendly, they really did make me feel so welcome so thank you to them all. The spa includes a medical spa, gym, sauna and Turkish bath, but the main attraction has to be the Thalassotherapy circuit which I can honestly say is the best thalassotherapy circuit that I have ever experienced! If you haven't encountered thalassotherapy before it is essentially the use of seawater and sea products to cleanse, detox and refine your skin.
My programme also included two thalasso massage sessions in seawater rich in sodium salt, marine mud therapy sessions and signature body detoxifying treatments which made for a truly relaxing stay. I would also recommend the salt and honey body scrub which was a fantastic treatment and one of the best scrubs I've had in a spa to date.
The Fitness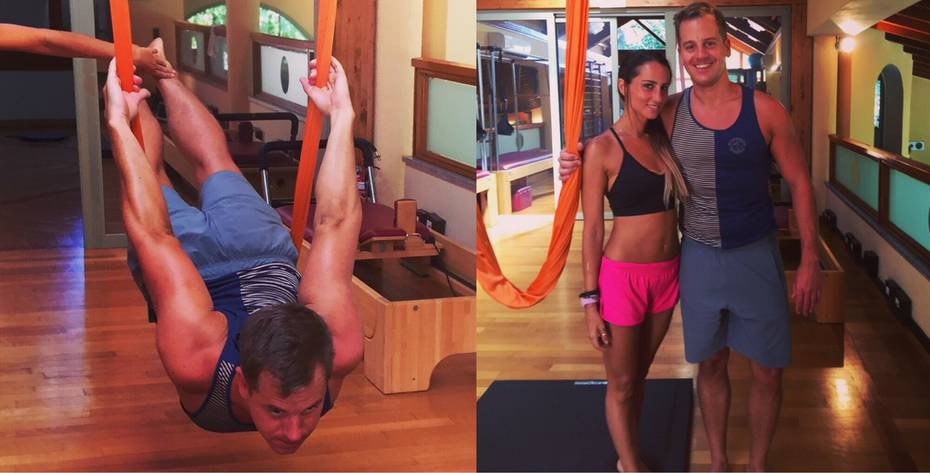 With the vast size of the resort comes a whole host of fun and exciting activities to delve into, making this a great destination for a sports holiday. Whether it be boxing, cycling, swimming, tennis, football or even go karting, you name it, Forte Village has it! Personally, I'm a cycling fanatic and was so impressed with the range of bikes at the cycling academy where I had a fantastic bike ride tour. The Performance Centre is also brilliant, and I had a great full-body analysis with Armando who really helped me to gage where I'm at with my health and fitness goals.
There are also plenty of holistic activities available including yoga, stretch classes, Pilates and transcendental meditation to name a few. However, to really make the most of your stay I would really recommend trying something new. I stepped out of my comfort zone with Vittoria's anti-gravity yoga session and it was fantastic! I also could not resist trying their Gyrotonic Expansion System which is a unique system of equipment designed to gently work the joints and muscles in the body and is ideal for anyone seeking health, strength, balance and flexibility.
If water sports are more your thing then look no further as Forte Village seems to have it all! Nothing's more fun than messing about in a boat and there is a whole range of different boats available for you to explore Italy's crystal-clear waters; kayaks, catamarans, dinghies, pedalos, whatever your sailing desires the onsite Boat House is sure to provide! The rock-free seabed makes the coast the perfect location to make a splash with water-skiing and windsurfing and you can even get your PADI licence in the scuba diving centre.
Food/ Restaurants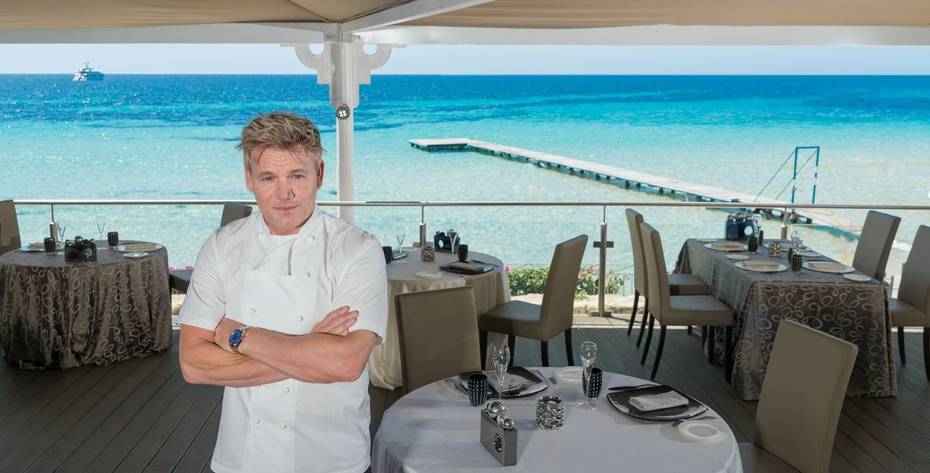 With over 21 restaurants to choose from deciding where to eat each day was a mission in itself. On the first day I ate at the Forte Grill which served up a fantastic range of high quality meat from Italy, Ireland and Australia with an excellent choice of desserts! The best restaurant for me however, has to be The Belvedere, a Michelin Star restaurant which was on the top floor of my hotel. It is a gourmet restaurant which serves traditional Italian and Sardinian dishes and the food and service there is simply superb!
For a fantastic slice of Italy, the Pizzeria is a perfect lunchtime spot dishing out wood-fired, crunchy-crusted and thin based classic Italian pizzas. If you're looking for a more nutritious option, then the Fish Market Restaurant over the sea is an ideal spot for a healthy Mediterranean lunch serving fresh fish, wonderful salads and delicious cheeses.
The Wellness Programmes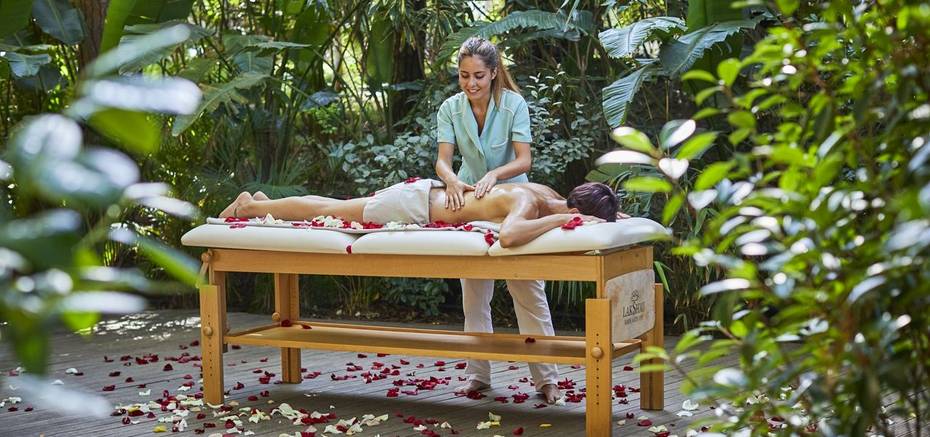 The wide array of facilities available at Forte Village make it a perfect spot to achieve your wellness goals and create a healthy holiday experience. On the Thalasso Detox programme I got the opportunity to have a specialist medical examination, a glycaemic and lipid structure evaluation, an ECG and many more educational wellness experiences which have all provided me with incredibly useful information for achieving my wellness goals. I also had a brilliant diet consultation and the results from the Genius check machine analysis were really interesting. I learnt so much on my programme and would highly recommend booking one yourself, so you can get the most out of your stay at Forte Village. The programmes on offer are:


The Staff
The staff at the resort were very helpful in everything I needed! The resort exudes such a friendly and warm atmosphere and I'd particularly like to thank Elena Zago, the manager of the Hotel Villa del Parco & SPA for her fantastic hospitality.
The Scenery & Surroundings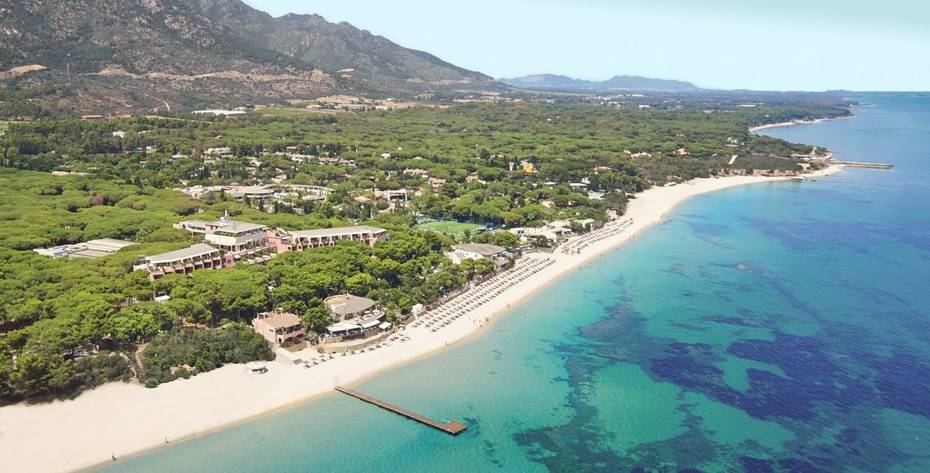 From the moment you step into Forte Village it's clear that a lot of careful thought has gone into how to make the resort a peaceful oasis of beauty, whilst simultaneously maintaining an action-packed environment that is perfect for both children and adults. With everything from Michelin Star restaurants and Olympic style sports academies to a bowling alley and a 5000-seater arena, it really comes as no surprise that this breath-taking holiday destination has been voted one of the best resorts in the world!
Highlights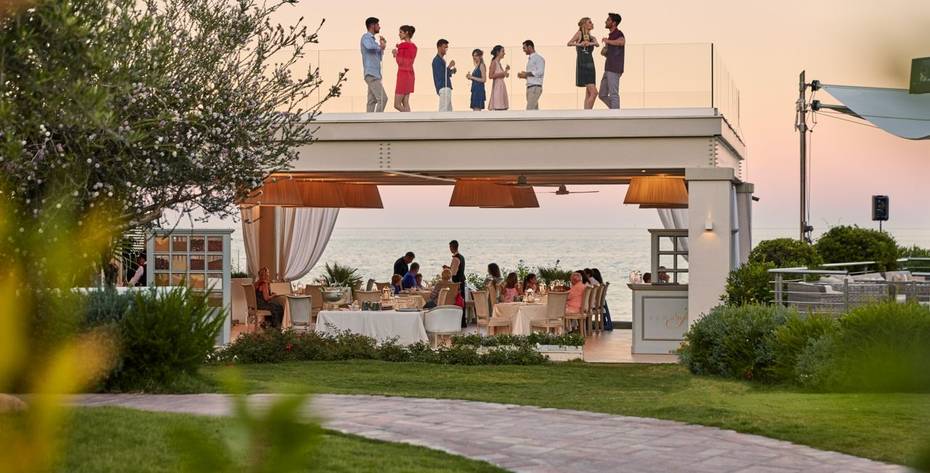 The evening entertaining was a definite highlight for me! There were so many great bands to go and see and the Beatles Tribute was particularly outstanding. The huge open-air stage is a great hang-out spot before heading to Mahiki, a new Tiki-themed club filled with exotic cocktails, sea-shell lamps and hand-carved figures creating a tropical island nightlife experience that is certainly not to be missed!
My Summary & Verdict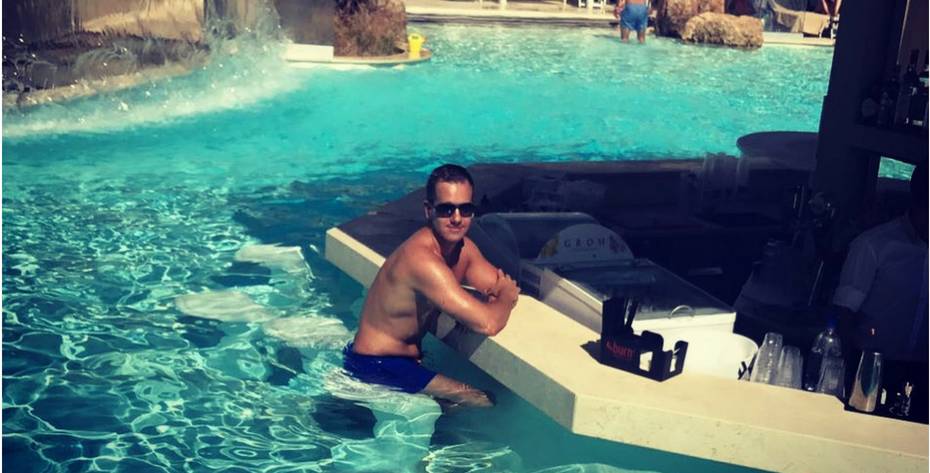 I really cannot recommend Forte Village enough and have been doing so since my return. It has the ultimate balance of health and fitness activities with exquisite dining experiences and stunning sea views. The resort's staff went above and beyond to make sure that I enjoyed my stay and the wide array of activities meant that I had the freedom to design my holiday experience to suit my needs. My trip to Forte Village has honestly been one of the best and most varied activity holidays I have ever embarked on and I hope to return soon!
How to Book
To request a quote or for more information visit our Forte Village page.
Talk to one of our Travel Specialists on 0203 397 8891 or contact us here to discuss tailor-making your perfect healthy holiday.
Fact Box
Best time of the year to go: May to October
No. of Rooms: 771
Check-in/check-out: 2pm / 11am 
Wi-Fi: Yes
Children: Yes - kids club and baby-sitting services also provided
Reception/Room Service: 24h
Alcohol: Yes
Nearest Airport: Cagliari Airport
Airport transfer time: 50 minutes 
Address: Strada Statale 195 Sulcitana, Km, 09010 Santa Margherita di Pula CA, Italy