Paul's Review of 38 Degrees North, Aguas de Ibiza
08 July 2013

08 July 2013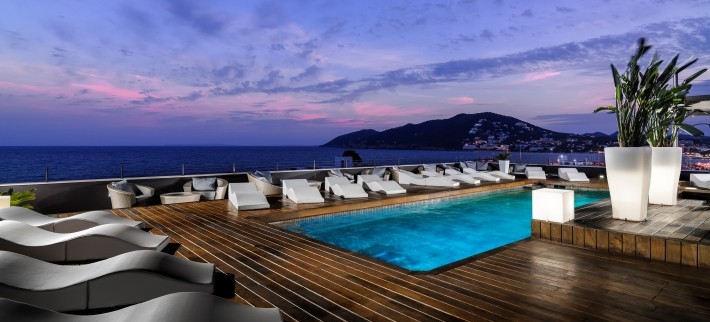 We all know that Ibiza has a reputation for being a party island but it's also a beautiful place to relax and boost your health and fitness. A four-day wellness break with 38 Degrees North was just what I needed to get fit, detox and recharge. I stayed in Santa Eulalia, a beautiful coastal town with lots of fabulous restaurants and home to a luxury spa holiday and fitness center at Aguas de Ibiza, a 5 star eco hotel.
This superb health and fitness retreat is run by Kelly Morgan and James Davis who offer tailor-made fitness holidays to suit personal goals, my goal was to de-stress and kick-start my fitness regime for summer. The team is made up of experts who range from a gold medalist personal trainer and adventure enthusiasts to an osteopath and chiropractic doctor along with yoga and Pilates teachers. With a fabulous spa and an incredible fitness team I knew I was at the right place.

The rooms are all designed on the basis of Feng Shui and encompass lots of space and light for relaxation. Mine came with stunning scenery of the marina and coastline with a spacious balcony to relax on. I was presented with my itinerary and fitness class timetable on arrival and looked forward to sampling Health and Fitness Travel's exclusive Fusion Fitness program, which had been pre-scheduled for me. Within 90 minutes of arriving I had my wellness consultation followed by a welcome massage to unwind.


Day 1
My day started with an aqua spinning class, by using underwater bikes they put less pressure on the muscles whilst still having a good workout in the water. I was told the muscles produce less lactic acid due to the water-related reduction in body temperature.
After a healthy breakfast of poached eggs and fruit, I met with Zoe Palmer, an experienced Nutritionist and Naturopath who gave me a very comprehensive health consultation. Zoe was very knowledgeable and understood a lot about foods, good nutrition and detoxing - I left armed with information and good intentions. A week later I was sent a detailed summary report which listed her recommendations, lifestyle and diet changes and long term treatment aims.


The view of Es Vedra off the east coast of Ibiza

After lunch by the pool, we headed on a coastal hike with amazing views to Es Vedra – a rocky island that is the third most magnetic spot in the world. James explained that the magnetic fields are meant to make you super energetic. As we hiked up a steep cliff edge, I certainly needed that energy boost. The views at the top are stunning and there was also an option to go swimming to cool down.
I returned to the resort afterwards for my private Pilates lesson with teacher Anne Marie. I'm not that experienced with Pilates so it was a back to basics lesson but Anne was a fantastic teacher and introduced me to the foam roller – a powerful therapeutic tool used for maintaining optimal physical health. I've since purchased one and now use it most days to massage, stretch my muscles and strengthen my lower back.


Day 2
I woke early and went straight to Kelly's fat burning circuit's class, a challenging group workout which takes you through a variety of cardio and strength training exercises to maximize your calorie burn.
I then had Osteopathy treatment with Natasha who I was very impressed with. I'd have no hesitation in recommending her; she was the best Osteopath I've seen in over 10 years, who understood my symptoms well and helped treat my neck problem.
In the afternoon I went on a three hour mountain bike ride through the countryside with James; a great way to see a beautiful side of the island. We stopped off at Cala Nova Beach which has an idyllic restaurant called Atzaro.
Practising yoga with Ayda Ellis on the terrace at Aguas de Ibiza


Once back at the resort I was ready to stretch out and had a personal yoga lesson with teacher Ayda Ellis who teaches Tantric yoga and also Fogo Sagrado which is energetic healing channeling from Brazilian shamans. I'm very dedicated to my yoga practice and it was so inspiring to train with such a fabulous and spiritually minded yoga teacher. (See video of my yoga session here). I then reclined by the pool with a healthy fruit smoothie before joining a group power yoga class with another exceptional teacher.


Day 3
I awoke to another beautiful sunrise and met Kelly for a personal TRX suspension training workout. This is an effective total-body workout that leverages gravity and your bodyweight to perform various exercises such as jumping squats, triceps press, one legged squats and atomic press ups.
A personal TRX suspension training workout


Luckily I was booked in to have a full body Abyhanga massage afterwards that sent me into a deep relaxation. I then reclined in the Spa Feng Shui pool with lots of powerful jets to ease my sore muscles. My afternoon was spent chilling out on a nearby beach after enjoying a delicious lunch at Babylon Beach Restaurant; only a 5 minute walk from the hotel.


Day 4
My last day began with a personalised boxing lesson by the beach with fitness trainer Gemma - a challenging workout which can increase endurance, strength and speed (See video of my boxing training session here). Gemma taught me the correct techniques and challenged me with a core workout to finish.

After my final wellness consultation with Kelly, I was booked in to see Gemma for a final personal training session which incorporated exercises and stretches that the osteopath had recommended. Gemma also worked me hard with a high intensity workout combining mountain climbers and press ups for maximum results. A feedback report with a suggested workout plan followed a week later with some useful exercises which I'm continuing to do.
A personalised boxing lesson by the beach (left) Paul with Kelly and James (right)


My healthy break ended with a pressotherapy massage, a body detox treatment used to reduce or eliminate cellulite or small pockets of fat located just beneath the skin's surface. After a treatment, it's believed the deep skin pressure and stimulation may help to promote proper blood flow and make the skin feel tighter.
38 Degrees North is ideal for a singles holiday for travelling alone, it's a luxurious retreat with an incredible team to look after you. I'd also recommend staying on and taking a day trip to Formentera, a small island 30 minutes from Ibiza town which is known to have beautiful beaches like the Caribbean.
Apart from the fitness program, the juice detox retreat is also a good option, making it an alternative for a detox holiday. My goals were to get fit and recharge and I felt in optimal health when I returned home.
For more information on the resort and our wellness programs, visit Aguas de Ibiza 38 Degrees North
Talk to one of our Travel Specialists on 0203 397 8891 or contact us here to discuss tailor-making your perfect wellness holiday.