Samantha's Review of Como Shambhala Estate
10 January 2014

10 January 2014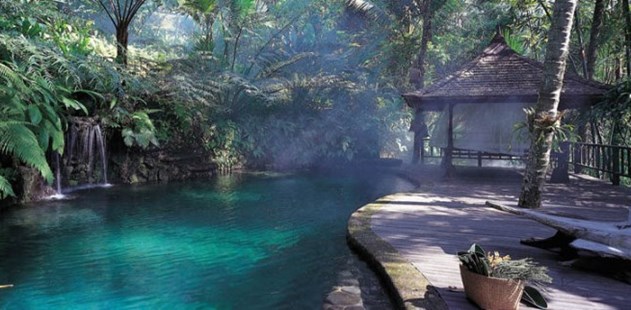 There is something almost magical about Como Shambhala Estate, as I head through the nearby town of Ubud; home to all things creative in Bali, I feel the excitement start to build. Entering the exclusive Como Shambhala Estate, a luxury destination spa holiday, a sense of peace envelopes me like a warm welcoming hug, and in the lobby I am met with big smiles, a flower lei and an effortless check in. I am then off exploring the immaculate grounds that are cared for by hand by a very large and talented ground keeping team. Nine hectares of perfectly manicured gardens surrounded by the Balinese forest and with the River Ayung set the backdrop of this Jungle wonderland. It's no wonder Como Shambhala were awarded Destination Spa of the Year in 2013 by Conde Nast Traveller.
After my tour of the grounds I am shown to Retreat Villa Shantivana, a luxury two bedroom villa, here I am further welcomed by the lovely Wiwiek, who advises me she will be my Personal Assistant during my stay (all participants on the Wellness Programmes are provided with a PA to make sure they make all their appointments and help to manage any changes/request over your stay), Wiwiek makes a fabulous experience even better and even offers to unpack my bags so I can enjoy myself straight away.
I sit by the private 12m pool with Jacuzzi jets and complete my arrival documents for my wellness consultation, each attendee is given a wellness evaluation to ensure they can be provided a 360° holistic wellness experience, before exploring the beautiful villa which also includes an outdoor shower, a steam shower and huge bathtub with a fabulous view of the pool and lush forest, so many options for a water baby like me and I'm not sure I will want to leave again.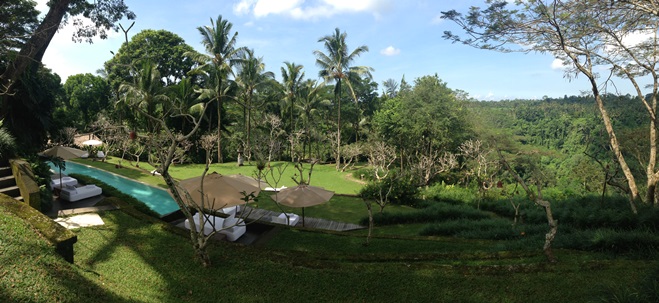 View of Shambhala Estate


My first treatment is a Taksu massage treatment, in Balinese 'taksu' means the magical transference of energy between two people who connect.  It is a strong and invigorating massage and it certainly feels magical, it is a fantastic antidote to deeply-held patterns of stress and I am in a complete state of relaxation when I leave, being one of the best massages I have had the pleasure of experiencing!
I enjoy dinner at Glow, one of two restaurants on the property and I am greeted by the friendly warm staff by name, this continues during my stay and makes me feel like a very important guest and with a maximum of just 85 guests the huge team of 360 staff makes you feel like visiting family. The food is fresh and amazing and with an open kitchen I can watch my meal taking shape in front of my eyes. The other restaurant is Kukos, where you can enjoy traditional Indonesian cuisine.
In the mornings there is the opportunity to join the Estate Walk, a 45 minute walk skirting the forest and showing off all the glory of the grounds, we pass the Jungle Gym, Rock-climbing area and come onto the Natural Spring Pool (be sure to wear your swimmers to indulge in a swim while you are there, full of minerals it's not only refreshing but good for you).
I have a consultation with Acupuncturist David, who has reviewed my documentation and together we review my health and goals for my stay and agree I would benefit most from the Stress Management programme. With lots of added activities from the complimentary daily programme as I love to stay active on holiday, David provides me with good practical advice and we add acupuncture and Qigong to my schedule.
During my stay I enjoy several outdoor activities including Rock-climbing: where I am fitted out with all the required gear and surrounded by a very competent activities team lead by Activities Manager Mark, we are taken through the safety requirements, taught some basic knot tying and the rock climbing terminology for top roping before we have the chance to 'climb on' –and  I am at the top of the wall in no time and trying corners and harder courses, scrambling up the rock face like I have being doing this forever! I also try mountain biking (see a video of the ride here) – this 5kms circuit takes us out of the estate and into the surrounding rice fields, moderately challenging for someone who can't remember the last time she was on a bike outside of a spin class but well worth to immerse yourself in the Balinese culture and I'm pleased to have the opportunity to get lots of photos.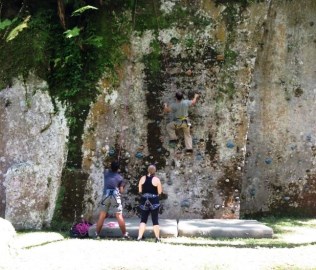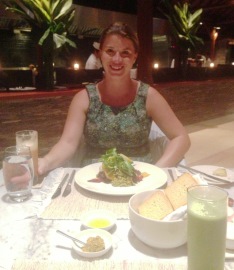 Learning the ropes for rock climbing (left). Enjoying a well-deserved dinner at Glow Restaurant (right).

All this activity has worked up an appetite and as I have a wheat intolerance, resident dietician Eva has created my own personalised menu with foods suitable to my dietary requirements and I am pleased to see that nearly everything from the original menu is still available.
The Yoga Pavilion overlooks the breathtaking view of the forest and Ayung valley; here we are guided through an excellent and tailored yoga class to our collective group experience, with some much needed relaxation at the end.
Como Shambhala Estate has many excellent facilities including a heated hydrotherapy pool, perfect for a Hydrotherapy Circuit class.  After a few warm ups reminiscent of your local aqua aerobics class it's on to use with high-pressure jets employed for massage and a very relaxing form of exercise topped off with a mandatory 15 minute rest, laid down, feet up and cocooned it is easy to head off to dreamland.
Another highlight of this stunning property is its many resident specialists who are able to guide you through their particular wellness specialities during your stay, and you may want to explore some new activities as I do including both QiGong, which combines gentle movements, breathing, strengthening, and relaxing as well as an acupuncture session which can be deployed to achieve results across a wide range of issues, both physical and emotional.
A Picnic Lunch at Kedara (Water Garden) followed by a dip in the natural spring pools is very enjoyable with a view of the white water rafters passing by every so often as part of the 2.5 hour journey down the river (if you are keen to take part in this and many other activities outside we can pre-arrange for you or simply have the activities team or your PA make arrangements for you when you arrive).
Every month, the Hindu-Balinese perform an evening Full Moon ceremony. This age-old ceremony is said to calm the mind, cool hot tempers, and prepare us to receive more gentle and calming energies and as our stay coincides with the monthly ritual we are able to take part in a ceremony, at the resort's own temple.
We all do traditional ceremony clothing then move on to the temple where we say prayers and make traditional offerings and it is a lovely to be included in the local customs.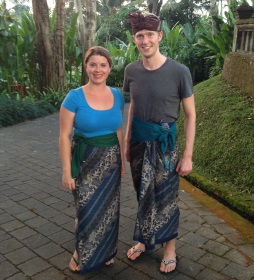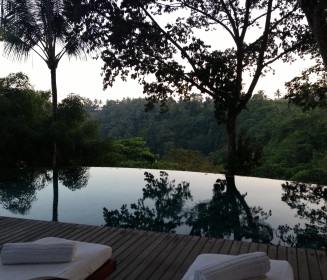 Travel Specialists Samantha and Adam in traditional ceremonial dress (left). Infinity pool overlooking the lush forest (right).
Before checking out I enjoy a 
Pilates
 class with specialist instructor Amy, enjoy a late breakfast in the villa, and some final laps in my private pool. With a multitude of accommodation types and world class dining, well-being activities and an outstanding spa this is a health and fitness retreat that will suit even the most disconcerting healthy traveller and I most certainly cannot wait to return.
How to Book
To request a quote or for more information visit our Como Shambhala Estate page
Talk to one of our Travel Specialists on 0203 397 8891 or contact us here to discuss tailor-making your perfect wellness holiday.