The Wonders of Water Therapy Treatments at Spas
31 July 2017

31 July 2017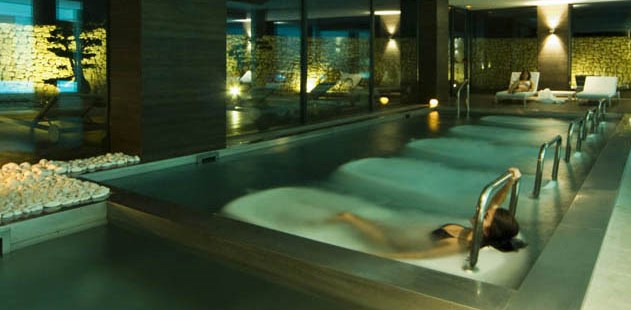 The practices of aquatic therapies cater to an array of problems; whether you are in a position of recovery, orthopaedic, neurological or chronic pain, the use of water relieves discomfort and promotes physical well-being. It is the healing properties of water combined with the skills and specialised training of therapists that will improve guests' overall mobility and functions.
Water therapy is an integral practice in traditional ancient medicine. The sacred method of rehabilitation has been carried over centuries and is still highly valued in modern-day healing. Nonetheless, many of us are unfamiliar with the array of benefits it can bring our health and well-being. All over the globe, the world's leading luxury spasoffer various forms of hydrotherapy, each full of advantageous effects and designed to restore guests. We explain the numerous approaches to hydrotherapy, varying from pools and baths to thermal water-circuits and jet showers, proving there's a water therapy to suit everybody.


Watsu Therapy
Watsu therapy is a unique massage experience taking place in mineral-rich water. It combines dancing, stretching and elements of shiatsu massage therapy to aid joint mobility. As you float, a therapist continuously supports, stretches, cradles and rocks you. The union of these motions in warm water creates deep relaxation and your muscles are free to release more tension. This treatment is ideal for targeting joint mobility, pressure point muscle release, injuries and anxiety induced tension. The treatment is said to promote healthy blood circulation to the brain, leaving you feeling revitalised and free of stress.


Feel entirely restored when completing the detox programme at The BodyHoliday in St. Lucia. As toxins and pollutants slowly poison the body, leading to lethargy and ailments, this retreat offers a fantastic opportunity to get your body and mind back on track. Watsu Therapy is based in mineral rich warm water, alleviating muscular tension best for a de-stress holiday treatment. Tailor your health programme to meet your specific needs, choose from an array of luxuriously organic and restorative treatments including Thalgo marine and Hydrotherapy at the award-winning spa, as well as a mind and body classes, allowing you to re-energise.  


SHA Wellness Clinic's holistic healing holiday experience promises to bring balance back to your body. Located in sunny Spain, enjoy luxurious spa treatments such as body wraps and deep tissue massage, or try the popular Watsu Massage, which many describe as the most surprising experience they've ever had. Each Watsu massage is held in 36c osmotic water and tailored to remedy your individual needs. Enjoy reenergising as you follow your tailored diet plan and try something new in the extensive range of water-based activities available. From the fabulously minimalist architecture, coastline views, outdoor yoga sessions and macrobiotic cooking classes you will feel truly inspired. 


Hydrotherapy
Hydrotherapy is the practice of specific exercises in mineral water tempered between 33-36c. The mineral water offers health-giving properties; among the many benefits of hydrotherapy are improved digestion, reduced inflammation and strengthened immunity. The heat offers pain relief and makes use of the body's natural reaction to hot and cold stimuli; cold water aims to invigorate, increasing internal activity, whereas warm water aims to calm and soothe. It focuses on slower controlled movements and relaxation, with the exercise adjusted to aid your range of movement and build strength.


Based in an idyllic haven of the Himalayas, Ananda offers a revitalising experience like no other. The Ananda Detox programme flushes out toxins, freeing your body and mind. If you have a slow digestive system or metabolism, a detox holiday will teach you how to make the necessary changes, making it easy to transfer into your everyday lifestyle, transforming the way your body functions. Ananda offers delicious healthy cuisine of which your personalised diet plan is based around; learn to cook in specialised classes to continue increasing nourishment. Try water rafting and mountain trekking to discover the beauty of Indian nature at this holistic wellness retreat.


Relax in the healing roof-top hydrotherapy pool whilst looking out at expansive South Miami beach at Metropolitan by COMO. There is something for everyone as the oasis of peace spa offers Asian-based therapies such as facials, massages and the luxurious hydrotherapy treatment perfect for those looking to heal on holiday, flush out toxins, and boost energy. This contemporary 1920's art deco wellness retreat is the perfect location for receiving complete rejuvenation whilst exploring a rich historic district. Take advantage of the gym, sunny yoga terrace, fresh seafood cuisine, pool side bar and organic vegan menu available throughout this healthy holiday.


Thalassotherapy

Thalassotherapy uses warm natural sea water to bring curative benefits such as detoxification, alleviating insomnia and cleansing the pores of your skin. 'Thalassa' derived from the Greek meaning for sea, is the medical use of pure seawater, sea products and shore climate, to promote all-natural healing. The salty sea water and its derivatives help to induce utter relaxation, calm aches and pains, and de-stress. Thalassotherapy is an invigorating treatment as it completely detoxifies the host by restoring the body's natural chemical balance both internally and externally.


Oceano combines intensive Thalassotherapy treatments with elements of a nutrition-centred retreat through balanced diet. Rich in minerals, this treatment will restore your body from the inside out on a spa break. All elements of the sea, from the ocean bed, seawater, sea plants and sea air are incorporated in this treatment, providing a natural healing experience. You will benefit internally as you follow a specially tailored diet plan of fresh fish, seafood and algae; which provide mineral substances that cleanse the digestive system and restore balance, promoting feelings of relaxation. Your body will benefit externally as a variety of spa treatments will leave you nourished and visibly radiant.


The Divani Apollon detox holiday ensures the highest results in the shortest period of time, promising to cleanse your body of impurities while on a healthy break, leaving you feeling renewed. With a range of detoxing treatments and therapies, in addition to multi-activity sessions and workouts with a gym instructor, you will be completely reenergised. Enhance your detox with daily entrance to the thalassotherapy pool, thalasso kinetics, yogalates and body pump and simply relax afterwards in the Norwegian steam room or 'wet heat' Hammam, which provides natural detoxification and muscle pain relief, whilst stimulating blood circulation.


Hydro-colon Therapy
As modern diets typically include a lot of animal proteins, processed foods, fat and sugar, the colon becomes the repository of accumulated toxins, which disables the body's purification functionality. The toxic material can re-enter our blood stream, and deposit into our cells, resulting in auto-intoxication which brings feelings of sluggishness and increased susceptibility to disease. Colon hydrotherapy involves the safe and gentle infusion of water into the colon, via the rectum. This vital organ remains the most neglected in the body. Through cleansing, the colons' functionality is improved, providing the ability to absorb vital nutrients, giving you that good gut feelingthat leaves you feeling lighter and healthier.


Located in tropical India, the Atmantan Master Cleanse programme promises to blitz your well-being from head to toe. The use of a traditional naturopathic cleansing treatment transforms the body on this holistic retreat. Your internal systems will be cleansed with the manual lymphatic drainage session and colon hydrotherapy. The relaxing and pampering spa environment helps to eliminate harmful toxins and promote relaxation during your stay. Also available is a specific detox cuisine; it is advised that you follow to ensure the body gradually transitions and adapts during the cleansing process, further increasing the potential to maintain a healthy lifestyle change.


Vichy Shower

A Vichy shower is an alternative way of showering whilst laying upon a wet table. The shower treatment usually ends part of another spa treatment, such as a salt scrub, body mask or wrap. Its focus is to rinse your body of different spa products gently, inducing a soothing and relaxing effect.  It successfully circulates the recently absorbed products through your system, enhancing the overall benefits. Vichy showers are designed to reduce stress, hydrate the skin and improve blood flow to the surface of the skin, as it is a preventative measure against diseases.


This programme puts the spotlight on stress and restores the body's natural harmony and pushes you to reach your optimum health levels both inside and out. With an array of luxurious spa treatments available, many focus on using a Vichy method to promote benefits such as improved blood circulation, release of muscle tension and cleansing the skin. Combat problem areas by opting for an invigorating, exfoliating Vichy Essential Massage or Thalasso Vichy Detox, or feel pampered with an Algae Massage or Marine Massage using essential oils and promising to awaken your senses. Re-energise as you play Tennis, Golf and Hike to improve fitness and achieve mental clarity on a multi-activity holiday.


Underwater Massage
An underwater massage is a gentle relaxing therapy. You are immersed in a large tub of warm mineral water as an internal pump circulates water from the tub through a tube, to create a high-pressure jet-styled stream, which can target specific problem areas of your body. Underwater massaging is an effective method for improving both blood and lymph circulation, as it stimulates the tissue and organs of your body, promoting improved health. The soothing treatment is considered a mild method for recovery as it can be used to aid minor aches and pains, as well as injury.


Ideal for those wanting to prepare the body and mind for surgery on a medical spa holiday, Kurotel's professional pre-surgery programme ensures optimal pre-care and post-recovery in the charming south of Brazil. Consultations with expert psychologists, physiotherapists, nutritionists and doctors shall ease all feelings of anxiety. Confidence is restored as you are nurtured on a programme designed and tailored for you specifically. Follow your personalised Kur Longevity diet plan, full of nutritious cuisine and enjoy pampering medical spa therapies that will decrease inflammation, detoxify your body and strengthen your well-being. Between dancing and cooking classes to health lectures, this health retreat hosts a relaxing activity for every guest.


SHA Detox is an ideal programme whether you're detoxifying after aggressive medical treatment, gastric problems or simply looking to learn to cleanse on holiday; the underwater massage offers purification, vitality and increased well-being. Participate in fitness classes and attend lectures to learn life-changing routines. Home to the aptly named paradise of wellness spa, feel thoroughly pampered with Shiatsu, deep-tissue massage and stone therapy, or enjoy a peaceful moment bird watching and Nordic walking. Experience something new by taking up snorkelling, windsurfing and sailing on a water sports holiday, as SHA offers an extensive range of activities to stimulate your mind and body.
Talk to one of our Travel Specialists on 0203 397 8891 or contact us here to discuss tailor-making your perfect spa holiday.