World's First Organic Wellness Destination Spa Resort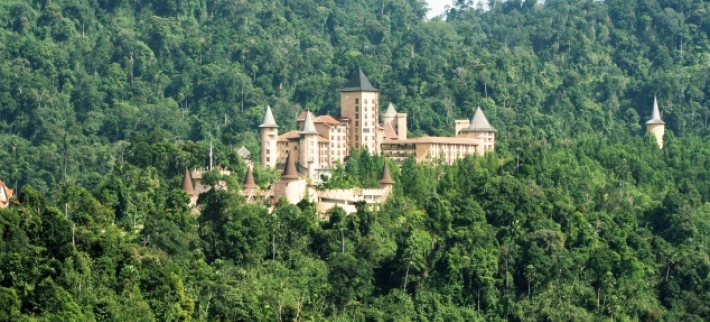 Tone muscles, cleanse out toxins, calm your mind and restore an overstressed body, leaving you rejuvenated and energised at the world's first spa and organic wellness resort in Malaysia. Called The Chateau and nestled serenely in the Berjaya Hills, it opens its doors to the world on 11th July 2011.
Modelled after an 18th century medieval 'Haut Koesnigburg' castle in Alsace, France, The Chateau boasts 210 elegant rooms and suites. The luxury resort welcomes both new and current wellness travellers, to a destination spa experience offering an idyllic haven in exploring the path towards total wellness.
Tailored health and fitness programmes include stress relief, body sculpting, fit for life and wellness rejuvenation, helping to address health goals. A daily schedule will keep you busy from dusk till dawn with activities including; tennis, golf, yoga, mountain biking, horse riding, hiking and jungle trekking, archery, exercise and dance classes to meditation and organic farming.
The Chateau prides itself on providing its guests with unprecedented organic gourmet dining experiences that will delight even the sharpest of palates. Selecting only fresh produce that is nurtured by hand in proud organic tradition from its very own ecologically grown gardens, The Chateau's team of gourmet specialists create exquisite menus and cuisine inspired by wellness. 
The Le Sante Spa deliver personalised therapies designed to meet individual needs and health goals ranging from beauty, anti-stress, anti-ageing, detox, weight loss and more, whilst also offering gentle guidance in nutrition and exercise.  With the resort's quintessential focus on progressive wellness and vitality, The Chateau is not only a retreat that embraces holistic ideas and relaxing principles, but one that defines the eminent journey towards health and fitness.
View all our programmes at The Chateau Organic Spa & Wellness Resort


Talk to one of our Travel Specialists on 0203 397 8891 or contact us here to discuss tailor-making your perfect healthy holiday.