Zumba Fitness; Lose Weight and Get Fit
06 April 2013

06 April 2013

Exercise no longer has to be tedious and like a chore. Zumba is the world's largest dance fitness programme which has lifted exercise to the next platform with its mix of international music with dance. Lose weight, tone up and get fit whilst having fun with this Latin dance workout!
The fitness programme was created by Columbian, dance teacher Alberto Beto Perez in the 1990s. Formerly an aerobic dance teacher and choreographer, Perez spontaneously discovered this energetic style of exercise and found it to be an effective way for people to enjoy working out and to see great results.
This form of exercise is evidently the hottest new way to keep fit, as its beneficial results have made it a popular workout worldwide. More than 110,000 locations in over 125 countries, offer Zumba in their fitness classes and it is also incorporated in holiday programmes. The BodyHoliday in St Lucia offer Zumba as part of their activity schedules, as an accessible way to maintain fitness whilst away.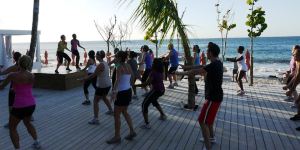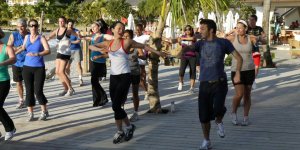 Different classes are provided which appeal to all ages; Zumbatomic is targeted at children, whilst Zumba Gold is for adults. The new dance steps and excitement in every session helps to build and allows adults to feel comfortable with their bodies. Whilst for children, it has become the new fun way to make them stay healthy and like it too! Other classes such as Zumba tone and Aqua Zumba help to strengthen your limbs, keeping you invigorated with the beats. The mixture of kicks, twirls, glides and bends provide an hour of enthusiasm and passion, offering an energetic atmosphere for everyone to get stuck in.
The sleekness of salsa, the charisma of cumbia and rhythm of reggaeton encourage you to strike moves, making exercise effortless and fun to do. Smiling whilst doing exercise is an assertive way to lose weight, because the more you want to do it, the more you enjoy it, and the faster you get into shape. The elegance and coolness of the Columbian flow calms anxieties and stress levels to offer a fresh way of feeling good.


Talk to one of our Travel Specialists on 0203 397 8891 or contact us here to discuss tailor-making your perfect healthy holiday.