10 Ways to Have a Healthy Weekend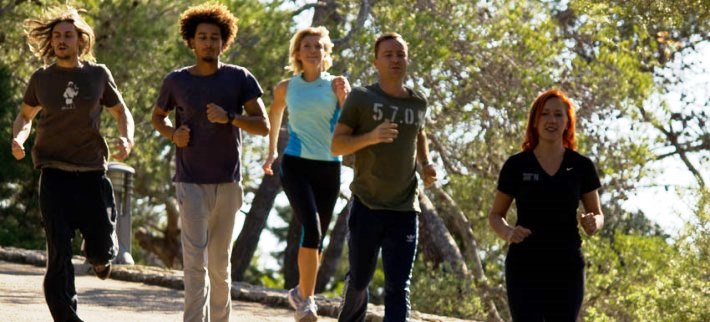 When the clock strikes five on Friday afternoon, all you want to do is let your hair down, relax and have fun with your friends. Unfortunately, this often leads to overindulging on sugary snacks, ordering takeaways and lounging around in front of the TV. By the time your Monday morning alarm sounds, you're left feeling tired, lethargic and guilty, having undone all your weekday healthy eating.
But it doesn't have to be this way! If you follow our 10 simple but effective ways to have a healthy weekend, you'll enjoy them more, feel energised and your body will most certainly thank you for it. From healthy spa breaks to outdoor fitness activities you are sure to find something suitable to help you plan your weekend and boost your well-being.


1. Make healthy choices at dinner
When it comes to a relaxing Friday or Saturday night meal at your favourite restaurant, it's often hard to resist splurging on something calorific. The answer is to never go to a restaurant absolutely starving; have a healthy snack before you leave, like an apple, so you're not tempted to order the biggest meal on the menu.  Avoid battered, fried or cream-rich foods, and opt instead for lean meats and fish. Have a look online at the menu before you go so you can make your choice before being surrounded by the enticing smells of fatty food.


2. Do weekend jobs healthily
An easy way to do more exercise is by finding creative ways to incorporate it into your daily routine. Don't always look to your car to get to the local shopping centre, use your bike or walk! If your destination is further afield, take the car but park a little further away so you stretch your legs and get some fresh air for a quick health boost. Look to the stairs rather than the elevator and pack healthy snacks to feed your hunger pangs so you're not tempted by that slice of chocolate cake in the café.


3. Restrain yourself from Saturday night party food and alcohol
Saturday nights are often seen as the enemy of dieting; with an abundance of high-fat nibbles and alcohol on offer. To resist temptation, never go to a party on an empty stomach and always try and station yourself out of arms reach from the finger-food.  It's often hard to contemplate how drinking adds on excess calories and fat, but alcohol has a surprisingly high sugar content. Try to choose light coloured spirits and beverages, like wine and vodka, which are less calorific. Also, try and fill up by drinking a glass of water between each drink, which will also help to stave off that dreaded Sunday morning hangover.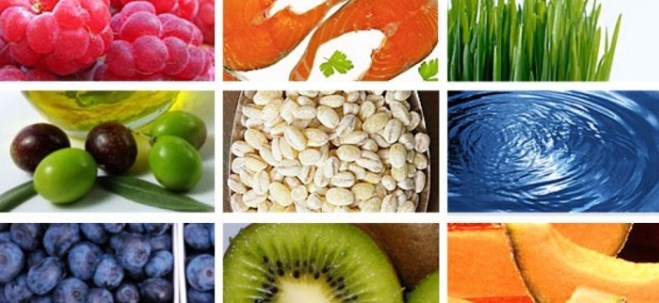 Healthy superfoods


4. Avoid weekend food gorges
It's easy to slip into a relaxed mind-set and eat whatever you fancy at the weekend, but your body won't thank you for it. When you're having a laid-back night in front of your favourite film on Sunday night, swap your usual bar of chocolate or bag of sugary popcorn for healthy snacks. You'll avoid your Monday morning food guilt and more importantly your waistline won't suffer.


5. Don't overindulge at breakfast time
A big, fried breakfast with all the trimmings is a welcome weekend treat for most people, especially after a late night. But this is a crucial mistake for anyone trying to pursue a healthy lifestyle or lose weight. Stick to a healthy breakfast instead, but have something different and more exciting than your weekday breakfast, so it's still special. Brunch and coffee time with your friends can also prove problematic for those trying to eat healthy. Avoid the muffin and large cappuccino temptation by making sure you eat a little something before you go, so you're not hungry.


6. Enjoy the outdoors
Of course the weekend is a time for relaxation and to forget about the stresses of the past week, but try not to let this turn into a weekend of sitting on the sofa. Recent studies have shown that just fifteen minutes of daily exercise can help boost your life expectancy so get active in the great outdoors and make the most of your precious days off! Go for a walk or a bike ride in the countryside, or go swimming at your local pool. You'll enjoy this much more and feel reinvigorated afterwards.


7. Have a healthy weekend away
Why not make your weekend truly special and escape on a healthy weekend away? Enhance your emotional and physical well-being with indulgent spa treatments and delicious and healthy cuisine on our luxury spa breaks. Or give your body a total overhaul and kick-start a fitness regime on one of our exclusive BodyBreaks in Europe. Make the most of your weekend with personal fitness training, a variety of energising workouts including yoga and Pilates, and replenishing spa treatments so you begin Monday motivated to pursue a healthier lifestyle.



Mountainbiking on our BodyBreak at Galo
8. Catch up on sleep
On the weekend make the most of not having to set your early morning alarm and get an early night on Sunday, so you wake up feeling refreshed and alert on Monday. If you don't get a good night's sleep you'll feel irritable, you won't perform to your best and you'll end up craving more sugary and fatty foods to make up for it.


9. Treat yourself



You want to be healthy, but you also want to be happy. You can't starve yourself of the meals that you love just because you're trying to be healthy. A cheat meal once a week will lift your mood and give you increased motivation to stay on track, rather that restricting yourself and giving up. So, enjoy tucking into your family Sunday roast or a takeaway on Saturday night. In fact, a cheat meal once a week can actually speed up your metabolism and aid in weight-loss, so you don't need to feel too guilty!


10. Book a healthy holiday
Why not be productive with your precious spare time and book a healthy holiday? Have some fun researching, planning and booking your perfect healthy getaway and find one that suits your personal needs, whether you need to de-stress, improve your fitness, lose weight or indulge with luxurious spa treatments. Booking a wellness holiday will give you something to look forward to during the long working week and mean you return home feeling fully revitalised.



Talk to one of our Travel Specialists on 0203 397 8891 or contact us here to discuss tailor-making your perfect healthy holiday.