Adam's Review of Obsidian Wellness Centre, Spain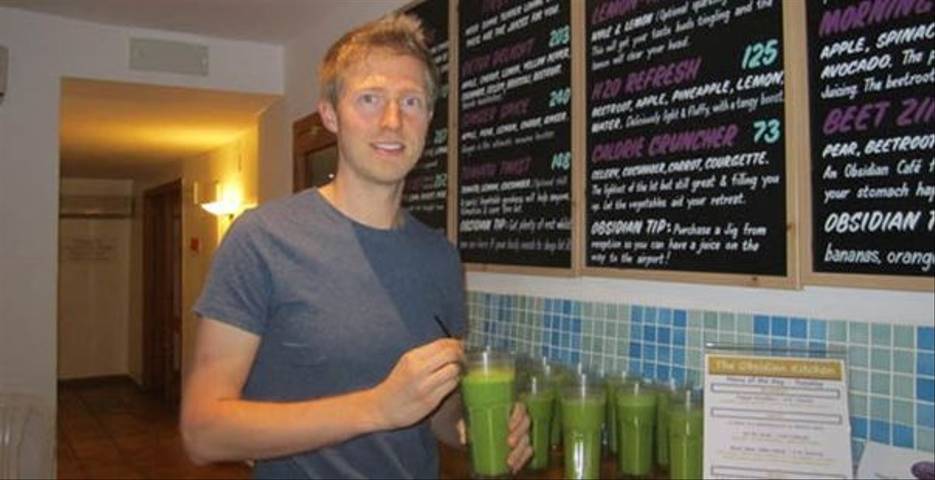 What is Obsidian Wellness Centre and who's it for?

Obsidian Wellness Centre is an affordable detox holiday in Spain for those looking to lose weight and kick-start a healthy regime, also suitable for pre and post cancer patients, those with specific health issues through the benefits of juice fasting. It's also a great retreat for relaxation and to take part in exercise classes and detox through juicing.
The age of guests range between 25 and 65 with a mostly female audience. Stay durations vary between a basic 3-day detox, a popular week-long stay and at least a few guests committed to 1-3 months. You can arrive and start your stay on any day of the week for any duration - the average weight loss per guest is an incredible 1.1 lbs / 0.5 kg per day.


Getting There



Obsidian's nearest airport is Alicante. Alternative routes from other destinations are flying into Madrid or Barcelona and take a connecting flight, or trains run from Madrid (2.5hrs), Valencia (1 hr) or Barcelona (4 hrs). The transfer time from Alicante airport or train station is around 1 hour and is mostly a traffic-free highway.
If guests are landing within 1 hour of each other on two different flights you may need to wait up to one hour for the next person to land so the airport transfer can be shared.


The Hotel & Accommodation



The accommodation is quite basic without a luxury feel but is very pleasant after a recent refurbishment and comfortable new beds. I recommend booking in advance to give you the best choice from either a single room, twin shared occupancy or triple shared occupancy. I recommend taking ear plugs, particularly if you are sharing a room with someone.
The hotel has a large reception area with comfortable sofas making it the main communal area for meeting and relaxing between classes; I found myself here regularly getting to know the other guests. There's enough space to socialise as much as you like or spend some time contemplating and reflecting in the Zen or "Chill" areas.
Every Friday you can enjoy a fun themed Gala Dinner with a 3 course meal and a chance to dress up and celebrate your achievements, usually with an entertaining and engaging quiz. There's an abundant comradery and support at Obsidian; throughout the hotel, motivational phrases are printed on walls and brings out a positive and jubilant atmosphere.


Central hub of the centre and a comfortable space to socialise with other guests


Obsidian's Approach



The philosophy at Obsidian Wellness Centre is based around four pillars of diet, exercise, education and mind-set. From this I really found their approach to be balanced across all four disciplines. You begin with an initial assessment to establish your goals, measure your BMI, fat, weight etc. – these indicators are then monitored regularly to track your progress and provide feedback. An on-site nurse is available 7 days a week for any related health queries and your peace of mind.
From our collection of singles holidays, Obsidian is one of the best wellness retreats for solo travellers; you immediately feel part of the group when you arrive, the energy and friendliness between everybody is genuinely supportive. Motivational talks and DVD nights alternated most days offering regular educational personal development to help kick-out old habits and form new ones. Cooking and juicing demonstrations also feature on a regular basis.
With a 21 day after-care programme over email each day from shopping lists, recipes and helpful advice on how to remember what you've learnt, the support here lasts longer than the holiday itself.
Example Daily Schedule
08:00 Vigorous group walk
09:00 Breakfast: Personalised juice
09:30 Yoga stretch
11:00 Boxing / Interval training
13:00 Lunch: Juice (or Salad)
14:00 Cookery / juicing demonstration
15:00 Legs, bums & tums / tai chi
17:00 Rebounding
18:30 Dinner: Personalised juice (or Vegan Buffet)
20:00 Yoga relaxation / movie night
*A variety of juices are available to choose from. Salads and vegan buffets are available to those not on a juice diet.

Boxing class (left) and the outdoor pool (right).


The Fitness



Daily group fitness classes are geared towards beginners or those relatively new to fitness and includes 'rebounding' (exercising/jumping on your own trampoline) as a guaranteed fun and effective daily class. Here is a list of classes you can expect during your stay:
 
Yoga
Morning Walk
Rebounding
Aquafit
Body Basix
Bootcamp
Boxercise
Circuits
Dynamic Yoga
Evening Yoga and Meditation
Legs, Bums and Tums

Obsidian Workout
Pilates
Posture Basix
Pump It
Shake It
Swiss Ball Basix
Tone Up
Tai Chi
Xtreme Rebounding
Zumba
Gym Induction

Every morning begins with a brisk 45 minute and a great way to start the day; you can take a slight diversion for some magnificent views (see last photo in this review).
All the instructors are enthusiastic and encourage you to work really hard or effectively every class. This isn't a bootcamp so the intensity of training is not extreme - 1-on-1 coaching is available if you need or prefer it.


The Food



The focus at Obsidian is primarily a full juice diet with 40-70% of guests opting for this to maximise weight loss – all juices are between 70 calories and 360 calories each – my favourite was the Beet Zinger! (pear, beetroot, ginger, lemon and avocado) but all the juices tasted great. You do need a small amount of self-discipline to resist eating the vegan buffet in easy reach at lunch and dinner.
A combination of juicing and raw vegan food is also popular if you're not quite ready for a full juice detox. At breakfast when you collect your morning juice you can choose whether or not you would like a juice or meal for dinner.
A communal kitchen offers 24-hour access to herbal teas and a range of supplements from spirulina, wheat grass to barley and flax seed to complement your juices.
Personalised detox juices (left) and Adam in the consultation room (right).


The Staff



The owners and English staff are friendly, accommodating and approachable. 1-to-1 sessions are available at extra cost and include colonic hydrotherapy, personal training, hypnotherapy, NLP and counselling. You'll also find a number of specialist assessments ranging from vitamin and mineral infusions, diabetes and chronic fatigue consultations, stool and genetic tests to food intolerance and mineral blood testing. If you would like any of these please enquire with us for more details.


The Scenery & Surroundings



Obsidian organises free and supplementary weekly trips to markets, shops, beaches, historical attractions and nearby villages to wander through - all trips leave at 9.30am and returns at 12.30pm. I recommend visiting the local Moraira market for a local experience.


My Summary & Verdict



From our collection of detox retreats, if affordability is important to you I would not recommend anywhere else better to go to lose weight through a nutrient-high approach of juice fasting. Obsidian Wellness Centre offers a friendly, lively and supportive environment for learning about the four pillars of diet, exercise, education and mind-set. If you don't mind stepping away from luxury, this wellness retreat is well worth the investment.


How to Book
To request a quote or for more information visit our Obsidian Wellness Centre page
Talk to one of our Travel Specialists on 0203 397 8891 or contact us here to discuss tailor-making your perfect wellness holiday. 
Fact Box
Best time of the year to go: May - September
Months to book in advance for: April - September
No. of Rooms: 23 
Check-in/check-out: 3pm / 12pm (flexible on availability)
Wi-Fi: Yes (available mostly only in reception)
Children: No
Reception/Room Service: 24hr
Alcohol:No
Nearest Airport: Alicante
Airport transfer time: 45 minutes
Address: Obsidian Wellness Centre, Partida Paratella, 44, 03720 Benissa, Alicante, Spain