The Best Luxury Wellness Holidays for Social Distancing
30 June 2020

30 June 2020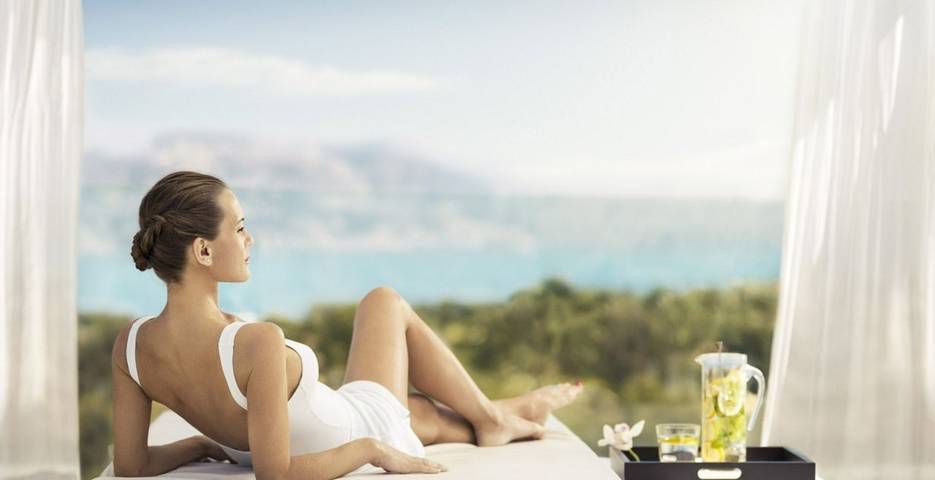 Take a well-deserved break from the madness of mundane life with a wellness holiday tailored to give you a safe and socially distanced experience. There is no doubt that the current global pandemic has shocked the world, both physically and mentally, and whilst we recover as a country, a bit of TLC and self-love has never been more important. So why not escape to a private villa in Oman, relax in a Spanish wellness retreat, or de-stress on the Mauritius south coast, reassured that wherever you go your health and safety is the number one priority.
Our wellness holidays are here to help you get away from the anxieties of lockdown life whilst keeping yourselves, and those around you, as safe as possible. In the wake of such great disruption, a wellness holiday might be exactly what you need to heal your mind, body, and soul.
Immerse yourself in the beauty of Oman's private bays and impressive mountains with a luxury spa holiday tailored to enable an incredible experience in line with social distancing and COVID precautions. The resort's private villas and improved in-villa dining allows you to enjoy the luxuries of the resort while maintaining complete privacy and seclusion from other guests should you want it. Pre-booking of facilities means you don't have to sacrifice the indulgent spa therapies during your stay, as well as frequent cleaning and appropriate spacing of restaurants and lounges to give you the relaxing wellness experience you deserve.
More information: View Six Senses Zighy Bay
What better way to strengthen your immune system and rebalance your emotional health than a COVID friendly medical spa holiday in the Costa Blanca. An antibody test upon arrival and reduced capacity ensures your stay is stress free, as well as enhanced disinfecting systems to keep all areas safe and allow full use of the paradisiacal spa treatments and therapies. SHA's app includes bookings, menus, and health plans, and combines with the increased outdoor activities to decrease contact between staff and guests and make your stay as relaxing as possible whilst keeping you safe.
More information: View SHA Wellness Clinic
Escape to the spectacular vistas of Lake Garda on a detox retreat tailored to guarantee your safety and comfort considering social distancing regulations. Online check-in and temperature checks are in place to immediately reassure you upon your arrival, alongside mobile menus and services to reduce contact within the retreat. The beautiful natural setting allows for a wide range of outdoor activities, as well as a reservation system to prevent gatherings in or around any of the wellness facilities, so you can still enjoy the relaxing treatments and revitalising activities stress-free.
More information: View Lefay Lago Di Garda
Take a break from the chaos and recuperate by the crystal-clear lakes and magnificent mountains of the Swiss Alps with a nutrition-friendly healthy holiday. The resorts reduced capacity makes sure social distancing regulations can be met by both staff and guests, whilst allowing access to as many facilities as possible, as well as Sanitiser being available and encouraged throughout the resort, to keep a clean and comfortable environment for you. These measures are in place to help give you the ultimate holistic wellness retreat, and with the help of experienced nutritionists, doctors and instructors we will work to keep you happy, healthy and safe.
More information: View Grand Resort Bad Ragaz
Unwind among the olive groves of a rustic Italian castle as you leave the worries of home behind and embark on a luxury spa holiday and fitness retreat molded to both your needs and COVID regulations. The reduced capacity of the resort allows you to explore the vast gardens while you socially distance, as well as intensified sanitation of the rooms and grounds to make sure you're safe as you relax and explore. Enjoy traditional Pugliese cuisine in the open-air restaurants, arranged to accommodate social distancing rules, much like the workshops and fitness classes that, when possible, will take place in the beautiful grounds to reduce contact as much as possible.
More information: View Borgo Egnazia
Relax and recuperate with an authentic Andalusian wellness holiday that caters to your health, well-being, and safety amid the chaos of COVID-19. With limited capacity and increased sanitation of facilities, this luxury wellness holiday could be the safe and healthy break that you need. The resort's app and Whatsapp chat allow you to have real-time service from the safety of your room or private villa, as well as altered layouts throughout the grounds to help with social distancing measures. Should you want complete isolation, this luxury wellness resort has made all food from the restaurants available for room-service during their open hours, so why not dine in the comfort of your private terrace? Choose a variety of wellness programmes for slimming detox and sleep-enhancement for a weight loss retreat to enhance your well-being.
More information: View Marbella Club
Rediscover your balance with a de-stress holiday on the exquisite white sand beaches and turquoise waters of the Mauritian coast. Social distancing and privacy are made easy with your own private balcony and 35 acres of tropical gardens to explore, alongside re-organised restaurants and bars to accommodate for 3-metre distancing between tables, so you can indulge in the delicacies of Aquacasia cuisine without a worry. Combine these safety precautions with the Shanti Spa's traditional treatments, available on a reservation basis, invigorating fitness sessions and a variety of water sports, and you've got the ultimate COVID friendly wellness holiday.
More information: View Shanti Maurice Resort & Spa
Give your body and mind the post-lockdown boost it needs with a wellness retreat and singles-friendly holiday in the Mediterranean sunshine. Choose from a variety of fitness, detox and relaxation programmes, and with the reduced capacity and regular sanitation throughout the wellness retreat, keeping safe and at a social distance won't be a problem at all. Your safety is considered throughout the resort with no additional costs if you should want your meals in the privacy of your room, controlled use of the gym and pool areas, and reduced capacity for classes, all to ensure you're safe and comfortable in these unprecedented times.
More information: View Longevity Cegonha Country Club
Indulge in holistic treatments and Ayurveda aromatherapies whilst you look out onto the stunning views of the Cretan coast on a COVID friendly wellness retreat and yoga holiday. The ample sanitiser dispensers are hardly noticeable among the world-class spa and fitness facilities, and the re-organised and allocated sunshades offer you complete privacy and safety. Combine this with the socially distanced restaurants providing fresh seafood and Greek delicacies, and this wellness holiday is sure to cure your lockdown blues. With such attention to your health and safety already considered, you can focus on enjoying your luxury spa holiday and making the most of your relaxing and recuperating wellness retreat in the picturesque setting of the Algarve.
More information: View Porto Elounda Golf & Spa Resort
Find your post-lockdown freedom with a rejuvenating healing holiday on the peaceful Portuguese coastline. The vast gardens and pine forests allow you to easily distance yourself from other guests, as well as the worries of everyday life, in addition to altered layouts for restaurants and lounges to ensure you have a socially distanced, stress-free, and relaxing holiday. With limited capacity and pre-booking for facilities, you can choose from a range of holistic spa treatments and therapies that will help to boost your mental and physical well-being, whilst ensuring your health and safety always.
More information: View EPIC SANA Algarve
Discover 10 Wellness Holidays and trips for late 2020/2021 to boost your immune system, clear the mind and increase your health and fitness


Talk to one of our Travel Specialists on 0203 397 8891 or contact us here to discuss tailor-making your perfect social distance friendly wellness holiday.