Louise's Review of Santani Wellness Resort & Spa, Sri Lanka
11 September 2018

11 September 2018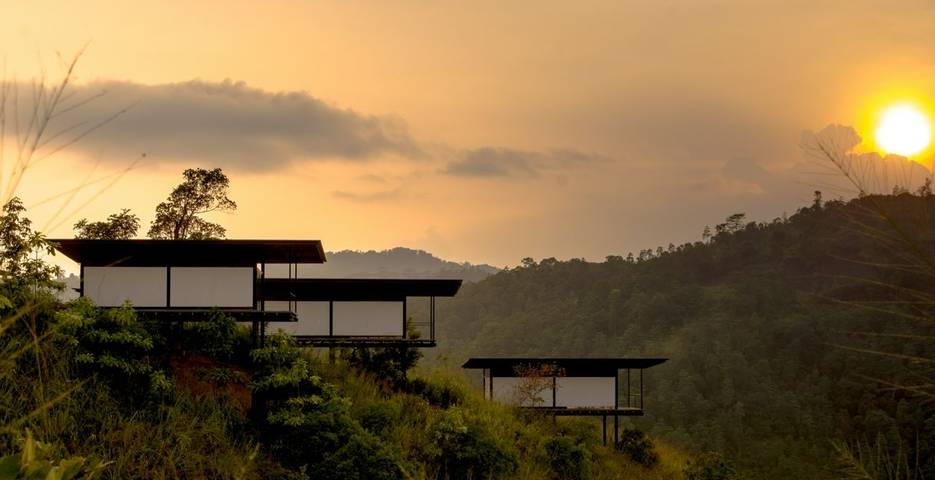 Tell us about the resort – what makes Santani special?
Santani is a relatively new architect-designed property built on 120 acres of former tea plantation and owned and run by Sri Lankans in central Sri Lanka, about five hours by car from Colombo (you can also take a seaplane to Kandy, which would be a great way to arrive). The last part of the drive, from Kandy, is on a climbing, winding mountain road. You can't even see the resort until you're there, that's how tucked away it is.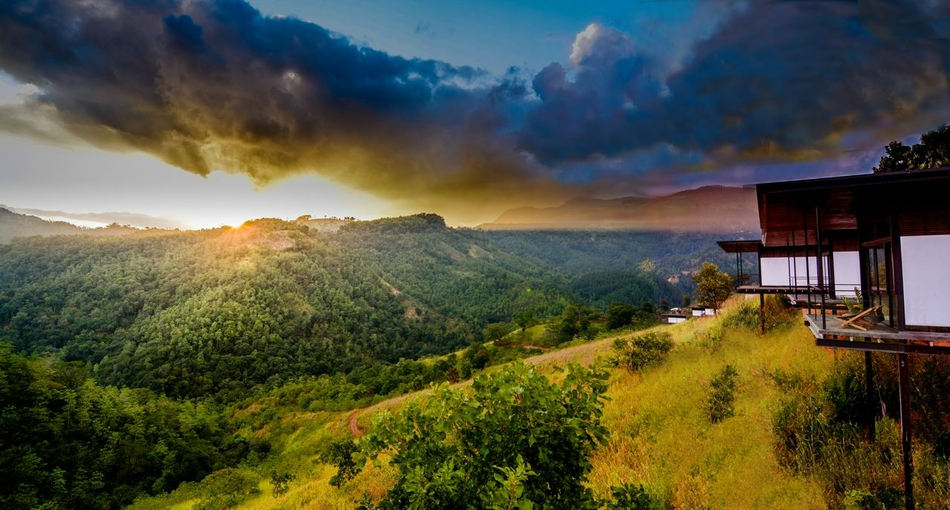 The main building is all glass and timber, rustic and contemporary at the same time, with a lounge downstairs and restaurant upstairs, both surrounded on three sides by floor-to-ceiling windows to maximise the views of forested slopes across the valley.
There are 20 bungalows, called chalets, 16 of which are staggered along a ridge, close together but angled so that you can't see or hear your neighbours. (The other four are garden chalets, for families with children over 12.)
Inspired by meditation caves, they have polished concrete floors and walls, with glass skirting boards giving glimpses of the outside garden at floor level, and a deck with two chairs overlooking the valley. It rained a bit when I was there, and it was wonderful to lie in my king bed, which was draped in a white mosquito net, listening to the rain and looking out through glass doors at the mist rising from the valley. Another lovely feature are the louvres just below the ceiling on each wall, to let in the breeze and the chirps of birds, crickets and frogs even when the doors are closed; so you get the sense of being cosy inside, while also being connected to your surroundings.


How was the food?
The food is one of the highlights of a stay at Santani. The executive chef has had 40-odd years experience in some of the best hotels in Europe and came to Ayurvedic cuisine about two years ago; now he and his team blend fine dining and Ayurvedic principles. He personally meets with each guest on arrival to ask about food preferences (allergy information is obtained during the booking process).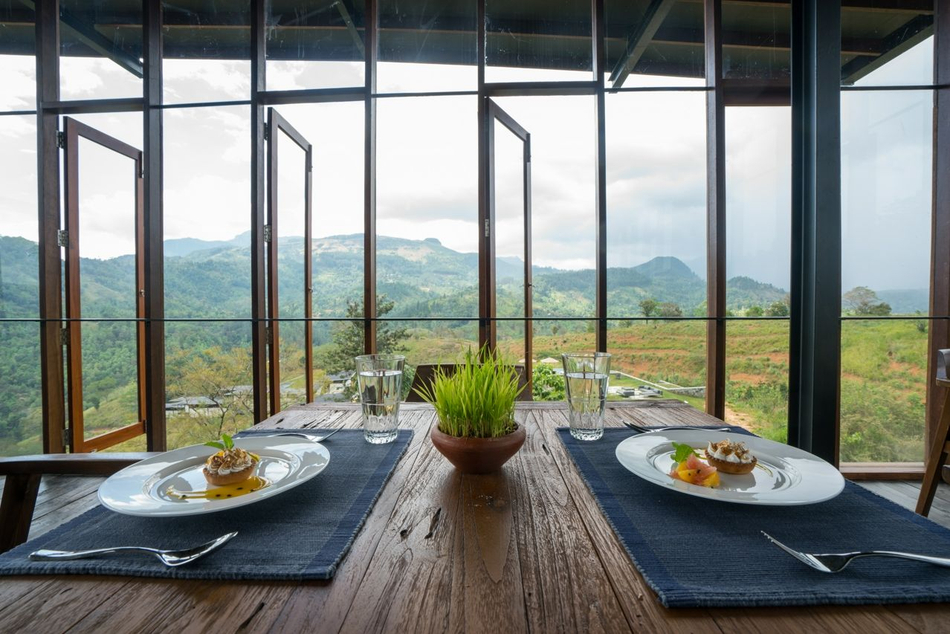 There are three meals a day (if you're not on a detox, weight loss or other program), including three-course lunches and dinners, and you can opt for Western or Sri Lankan dishes at each sitting. There are no menus – instead you talk to a staff member before each meal and dishes can be tailored to your preferences and allergies. The portions aren't huge, but I never felt hungry between meals – perhaps because each meal is designed to contain all six Ayurvedic tastes and almost all the produce is organic and grown on the property, ensuring the food is nourishing on all levels.
One of the best things about dining at Santani was that the restaurant, even when full, was always peaceful, even during dinner, perhaps because no alcohol is served, though a wine list is available on request.


What was the Spa like?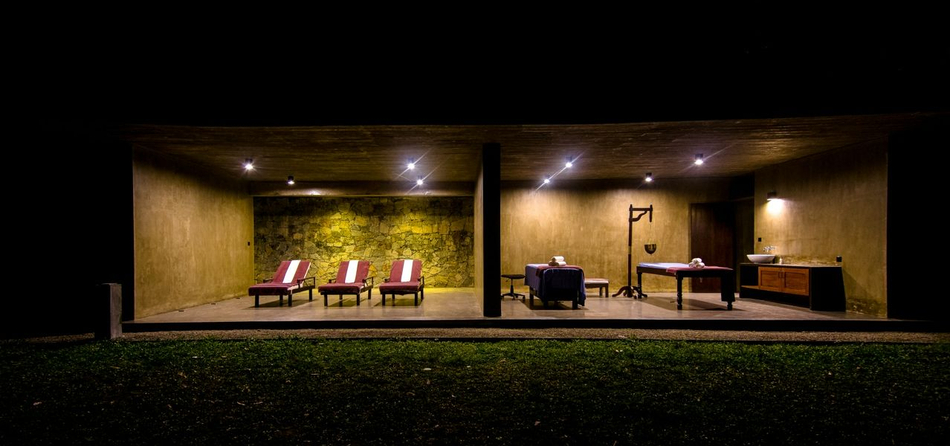 The three-level spa complex has won design awards for the way it has been cleverly built into a hillside and it is beautiful. The treatment rooms are on the lowest level and have one side completely open so you can hear the birds and the rain and sometimes even see spotted deer while you're having your treatment (Ayurvedic and Western treatments are available). There's also a sauna, steam room and saltwater plunge pool (as well as an unheated infinity pool on the property), which guests are free to use any time.
Tell us about the activities?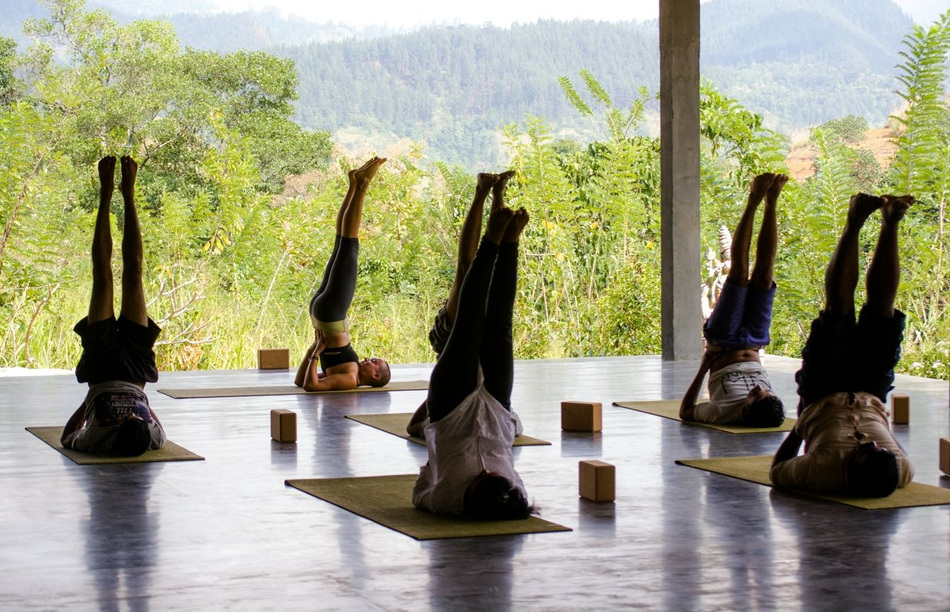 Just being at Santani is the main reason people go there; its location in the middle of Sri Lanka also gives it a "hideaway" vibe. Having said that, it's entirely possible to visit the charming city of Kandy, about an hour's drive from the resort down winding mountain roads – it has a beautiful lake, Buddhist temples, a lively cultural scene. Included in the room rate are yoga classes twice a day, at 7am and 4pm, and an easy two-hour guided nature walk down to the river, past tea plantations, learning about the plants and the property.


Who would you recommend Santani to?
Santani is for anyone wanting to step away from the busyness of modern life and the stresses of work and home (there's Wi-Fi access only by request), those looking to heal (even if you're not sure what needs healing) and couples looking for a romantic and peaceful place to spend time together and deepen their connection.
Apparently they get four main types of guests: solo women in their 30s and 40s looking for a healing break away, couples celebrating anniversaries or honeymoons, luxury travellers visiting all the best hotels in Sri Lanka, and people recovering from major life events such as cancer or divorce.


What was the highlight and what did you take home?
I loved the serenity of Santani, which comes from its thoughtful architecture and its natural surroundings; also the incredible food and the glass-walled dining room, which looks magical at night. My personal highlights were my one-on-one sessions with the visiting yoga teachers and the Ayurvedic doctor on staff. I visited the resort as a journalist, to write about it, but they were able to reach in and find what needed healing within me and I left with tools and ideas to help me continue that back home.


The verdict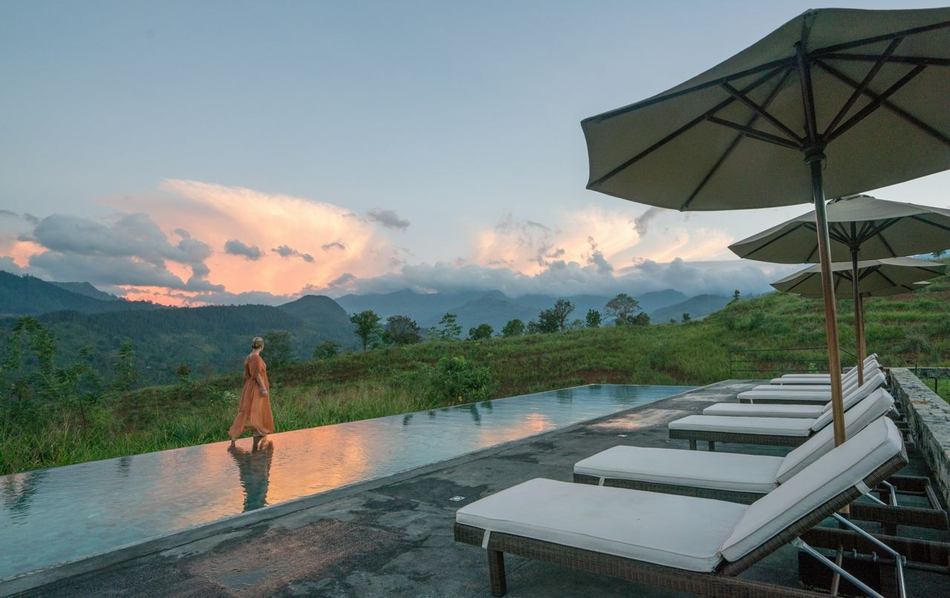 Santani is the real deal: a healing place, staffed with people who really care about the wellbeing of their guests (they're even trained in emotional intelligence so they can offer support as well as service) and everything has been designed or arranged with this intention.


Insider tips?
Make sure you stay at least three nights so that you can really relax into the spirit of the place and make the most of the long journey to get there. A week would be ideal, two weeks sublime. And turn off your phone and make the most of not being accessible for a few days.


How to Book 
To request a quote or for more information visit our Santani page. 
Talk to one of our Travel Specialists on 0203 397 8891 or contact us here to discuss tailor-making your perfect wellness holiday.


---

Louise Southerden is an award-winning freelance travel writer from Sydney, now based in northern NSW, who specialises in nature-based experiences and is passionate about simple, sustainable travel. She also has an eco-travel and simple living blog: www.noimpactgirl.com


Read more about her Santani Wellness Resort experience on her latest Traveller.com.au article.