Salmon Fishcake by Chiva Som International Health Resort
28 October 2020

28 October 2020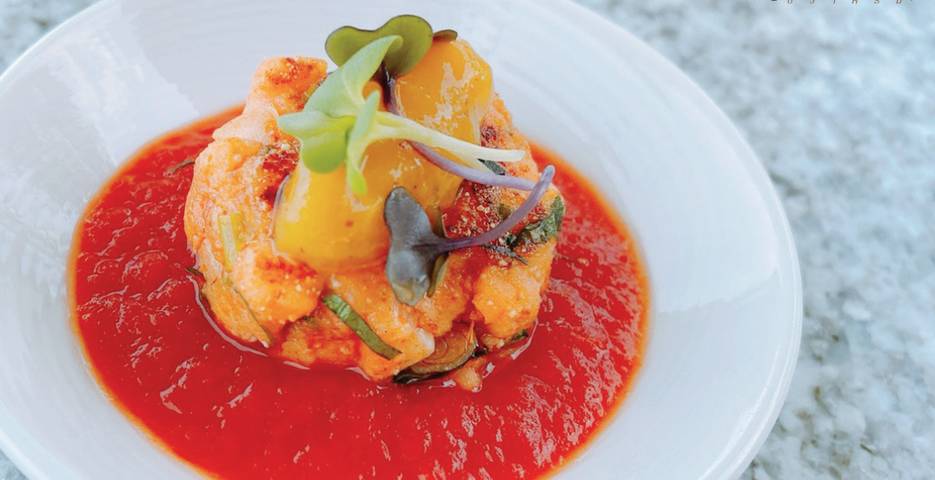 The Atlantic meets the Pacific with Chiva Som's Asian inspired fish dish that is light, nutritious and very moreish. Simple ingredients are pan fried for a tasty meal that is easy to prepare and perfect as a large appetiser or a small main. A garnish of tangy mango chutney pairs beautifully with the texture of the salmon and the richness of the Asian flavours. Try this super easy recipe for a healthy, exotic and delicate dinner for 3 to 4 people.
Ingredients
600g of salmon fillet, diced
1 tbsp of red curry paste
20g of coriander, finely sliced
20g of spring onion, sliced
50g of long parsley, finely sliced
70g of red onion, small diced
10g of dill
1 tbsp of ground rice powder
1/2 tsp of salt
Method
In a large mixing bowl, combine all ingredients.

Divide the mixture into 50 g (1¾ oz) balls and form into cakes.

Heat a non-stick pan and pan fry fish cakes on each side until golden brown.

Serve with sweet chili sauce on the side.
Red Bell Pepper Sauce
Ingredients
300g Red pepper, roasted and peeled
50g Onion, chopped
10g Garlic cloves, chopped
1tsp Salt
Method
Blend all ingredients in a blender.

Transfer the mixture to a sauce pan, simmer and stir frequently until a sauce consistency is reached.

Remove from heat and allow to cool.
Mango Chutney
Ingredients
200g of diced ripe mango
1 tbsp of lime juice
10g of fresh ginger, chopped
10g of green spring onion, chopped
5g of green chili
0.5 tsp of salt
10g of coriander leaves
Method
Combine all ingredient in a saucepan.

Simmer on a low heat while stirring frequently until it thickens.

Remove from heat and set aside to let cool.
If you would like to book a holiday at Chiva Som International Health Resort, talk to one of our Travel Specialists on 0203 397 8891 or contact us here.