Samantha's Review of The Barai Spa, Hua Hin
13 June 2018

13 June 2018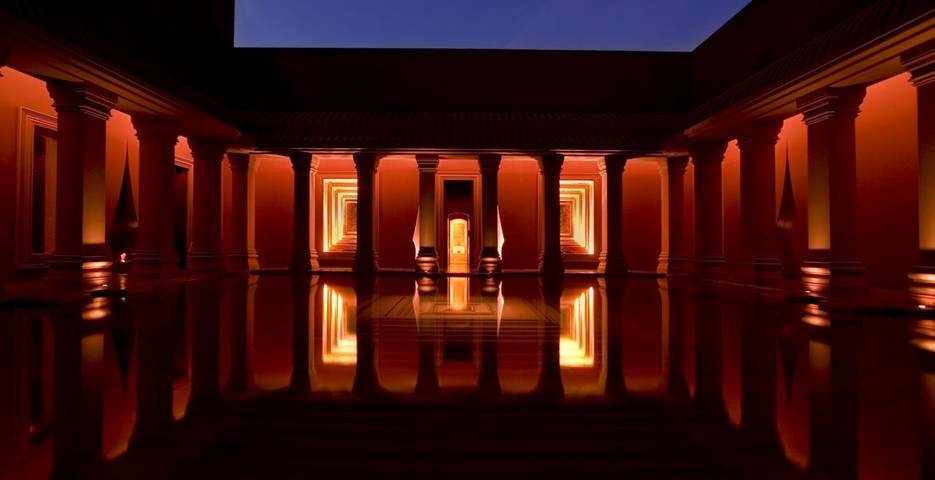 What is THE BARAI and who's it for?
THE BARAI is a luxury spa and wellness destination in Hua Hin, Thailand, set across 4.5 acres of pristine beachfront land and now offering a range of healthy lifestyle programs, perfect for a solo wellness adventure, a luxury healthy honeymoon or even an active family escape as adjoining is the Hyatt Regency and guests have access across both properties. Watch my video review here.


Getting There

Located in Hua Hin, the BARAI Spa is accessed by private car transfer (3.5 hrs) directly from Bangkok airport or alternatively via a comfortable luxury van from the Grand Hyatt Erawan, where we you might like to spend a night after arriving or before you depart the city. The van includes complimentary Wi-Fi and bottled water.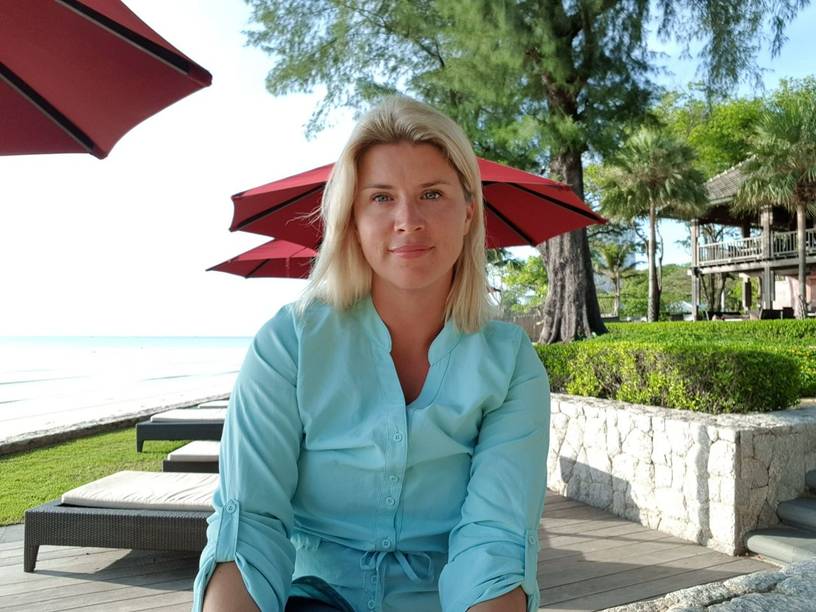 Wellness travel expert, Samantha Lippiatt at The Barai

The Hotel & Accommodation
The BARAI was designed by renowned Thai architect, Khun Lek Bunnag, who drew inspiration from the Baton Temple in Cambodia's Angkor Wat. Named after 'Barays', the large man-made reservoirs created by the Khmers to channel irrigated water for their daily use, believed to be the life arteries of the empire, and as a source of life, well-being and healing. The BARAI offers only 8 luxury suites, however guests can also stay in the adjoining Hyatt Regency, ideal if traveling as a family and we recommend the Club rooms. There is also a kid's club in the Hyatt offering ½ and full day programs for children from 4 -12 years old and babysitting services are available. You can even hire Xbox games and they have the largest free-form swimming pool plus a waterslide. With few exceptions, children under 14 years are not accepted as guests in the Suites and the relaxation area is adults only.
The Suites ranging in size from 126 to 149 sq m include private steam room and butler service. They are beautiful in design and feature specially made beds measuring 3m x 2m. There are four balcony suites and four pool suites offering plunge pool and direct access to the garden, all are located nearby the spa.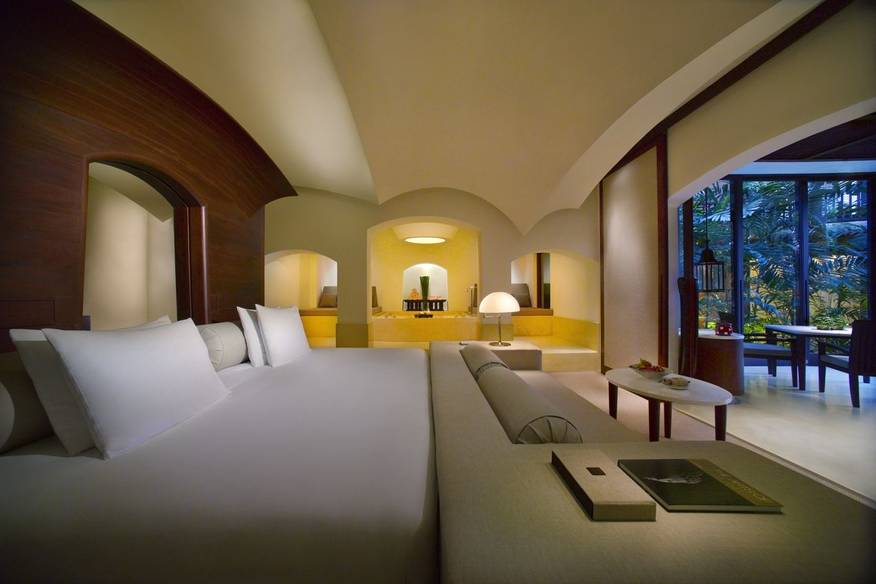 The Barai Pool Suite


The Spa
Centered around water, the spa is designed to emphasise this essential element and it plays a significant role in THE BARAI experience. The dramatic entrance down a dimly light corridor, past the wall of stars and through the carved wall is very impressive and the whole area radiates a sense of luxury and calm.
It features 18 treatment rooms with an extensive range of relaxing treatments inspired by traditional Thai rituals along with the best and most innovative western therapies.
Each treatment room includes a private outdoor soaking pool, a rain shower, a Thai day-bed and a private changing room and vanity. Three of the double rooms also offer deluxe hydrotherapy treatments with the addition of a Vichy treatment room and steam room. The adults only Tranquillity court is the ideal place to relax. This area is also where you can join the complimentary daily yoga classes and enjoy a dip in the 30 m salt water pool.
During my stay I enjoyed a daily spa treatment, beginning with a Thai herbal compresses, made in-house to suit the needs of each guest. Traditional Thai massage to stretch my stiff muscles. A relaxing foot and acupressure head massage and finished off with a lux caviar facial.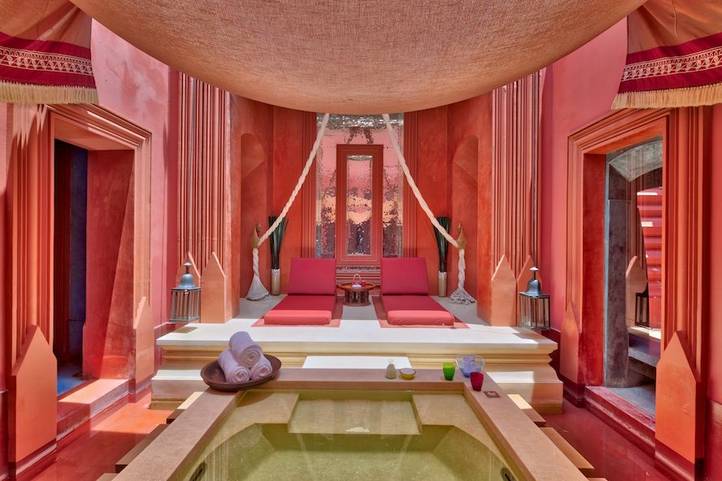 Spa treatment room

The Fitness
Guests have access to a small but well equipped 24-hour fitness centre, including free weights, weight machines, cardio equipment including treadmills, stationary bikes and elliptical machines.
A personal trainer can also be arranged depending on your program. As I was on a bespoke program, I had a session included and had a great workout with Khun O, who manages her own gym locally in Hua Hin, MetaMorph specialising in body transformations, she put me through my paces with a combination of free weights and body weight exercises before completing the session with 30 mins of dynamic stretching.
I also had two private yoga sessions with Khun Neung and while it had been some time since I was last on the mat, he was an excellent teacher – able to match my mood and push me just past my comfort zone with the use of breath work. I was able to stretch further and even begin headstand practise and I really enjoyed these sessions.
Also available are complimentary daily classes including Zumba, Thai boxing, power walks, guided runs and Yoga. On site there is also a tennis court, ping pong table and a new putting green is underway.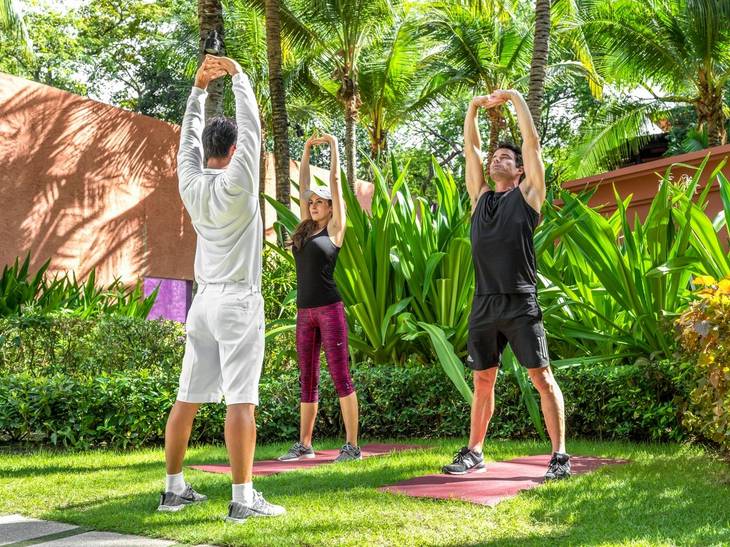 Food and Restaurants
McFarland House is the prime restaurant for wellness guests, set in a beautifully restored two-storey pavilion on the beach front, this historic building dates back to the 19th century. Now open from 6:30am for all-day dining and serves fresh snacks, light, healthy meals and a variety of blended juices and cleansing infusion teas, all with uninterrupted views of the Gulf of Thailand.
There are many options in the adjoining Hyatt and depending on the program recommendations these may be of interest, for those focused on a healthier menu, detox holiday options may be prepared for you ahead of time, taking the guess work and decision making out of the equation. In consideration with your preferences and any dietary requirements a bespoke menu will be prepared for you each day, an example of which is below:
BREAKFAST
YOUNG COCONUT & CHIA PUDDING
Coconut Water, Young Coconut, Blueberries, Sesame, Dill Flower
LUNCH
ROAST PUMPKIN & CAULIFLOWER CURRY
Coconut Milk, Sweet Thai Basil, Leek, Light Vegetable Broth, Steamed Buckwheat or Quinoa
DINNER
Straw Mushroom, Thai Greens, Carrot, Onion, Hot Basil, Lemon Grass, Galangal, Fragrant Broth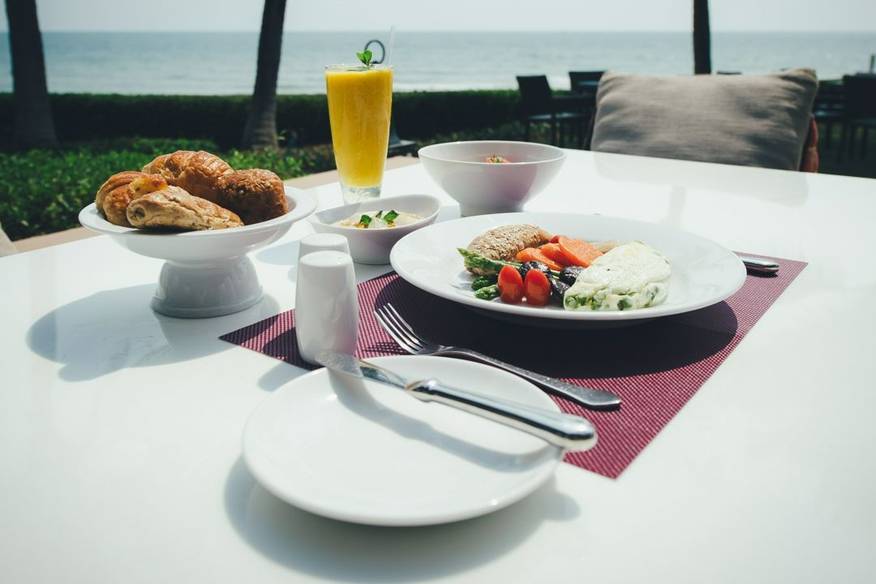 The Wellness Programs
Ranging from 3 days, all programs are complimented with a healthy menu or personalised detox menu served at McFarland House.
THE BARAI Lifestyle Collection was created around the 3 Pillars of Good Health: Rest and Relaxation, Exercise, and Healthy Nutrition, all essential to leading a long, happy and healthy life. They offer a wide range of relaxing and result-oriented programs. Taking a holistic approach to mind, body and spirit and focusing on a customised itinerary, the programs are designed to meet the needs of each guest, addressing the most important elements of health and well-being.
Each program begins with a wellness consultation, and the team are on hand offering support and guidance to help recover from the daily stresses of modern life. The BARAI hosts are true healers and together ensure the guest journey is enriching and enhancing, leaving you feeling revitalised and healthier at the end of your stay.
Program options:
Standard inclusions for all wellness programs when staying in The Barai Suites:
Full board (3 meals per day at McFarland House)
All beverages, excluding imported drinks and alcohol
1 x Healthy Lifestyle Consultation
1 x Body Composition Analysis
Complimentary laundry service for two items per day
Complimentary WIFI
Specific treatments listed in the package inclusions
Personalised Suite Butler service between 7:00am and 11:00pm
In-suite aromatherapy steam and milk bath prepared by your Suite Butler
Use of the Tranquillity Court pool between 8:30am and 7:00pm
Use of the relaxation area, steam room and sauna at THE BARAI Day Spa area
Use of the beachfront sundeck beds prepared by your Suite Butler
Use of Club Olympus fitness center (24 hours)
Complimentary entry to scheduled daily fitness activities
The Staff
A very smooth operation under the guidance of Spa Director Sylvia Marsden. When staying within the BARAI suites you will also have a team of dedicated personalised butlers at your service, and I would love to pass on my thanks to the lovely and professional Pin and Jan as well as excellent spa therapists Nisa, and Hanoi. The General Manager Christian also stopped by and introduced himself and took time to check in on me throughout my stay. You will certainly feel and be well taken care of here.


The Scenery & Surroundings

Set on the beachfront of Khao Takiab, stunning views of the Gulf of Thailand this hotel is idyllic location for a stunning beach holiday.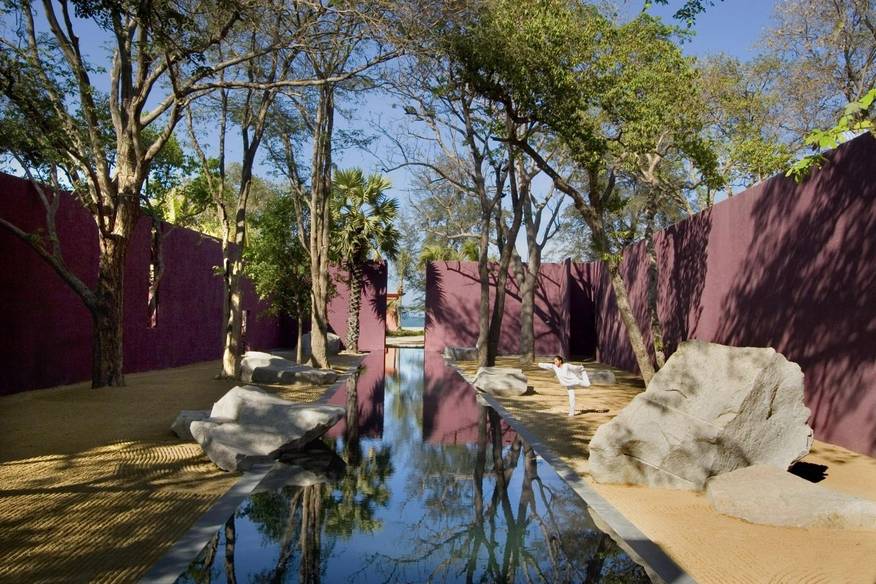 The tranquility court at the Barai
Highlights
Steam room and milk bath in-room
Hot Compress – made on site
Caviar facial
Recent Awards
2018 - Conde Nast Johansens Award for Excellence – Best for Luxury Value
2017 - Best Spa Silver Award - Best of The Best Exotiq Awards
2017 - Luxury Hotel & Spa of the Year – The Luxury Travel Guide Award
My Summary & Verdict
THE BARAI has WOW factor, the Suites are incredible - very much fitting of our Ultimate Collection - five star service; mouth-watering healthy gourmet cuisine; indulgent spa treatments; expert staff; and top-of-the-line facilities, to provide a deluxe wellness experience which is truly unforgettable. Come here to pamper yourself or with a loved one – ideal for a healthy honeymoon.
You can even bring the family with access to the Hyatt Regency. Or stay here to save more spending money for the spa. This is an excellent example of a hybrid wellness retreat and comes highly recommended. Watch my video review here.


Notes & Recommendations
► Complimentary Wi-Fi is available throughout the property.
► Complimentary laundry service is included for 2 pieces of clothing per day
► Children under the age of 14 are not allowed in THE BARAI but can be accommodated in the nearby Hyatt Regency hotel. Children aged between 14 and 16 must be accompanied by a parent or legal guardian when using the spa facilities.
► Hua Hin is an excellent kite surfing destination for 8 months of the year from October until May.
► The hotel is a 5-minute drive from Hua Hin Night Market and Railway Station and only 300 m from Cicada Market.
How to Book
To request a quote or for more information visit the BARAI Spa page
Talk to one of our Travel Specialists on 0203 397 8891 or contact us here to discuss tailor-making your perfect healthy holiday.
Find out Why to Book with Us and further details on How to Book.
Fact Box
Best time of the year to go: November to February
Months to book in advance for: December and January
No. of Rooms: 8
Check-in/check-out: 12 noon / 14:00
Wi-Fi: Yes - good throughout the entire hotel
Children: Yes
Reception/Room Service: 24 hours
Alcohol: Available
Nearest Airport: Bangkok International Airport (BKK)
Airport transfer time: 3 hours 30 mins 
Address: 91 Tambon Nong Kae, Amphoe Hua Hin, Chang Wat Prachuap Khiri Khan 77110