10 Reasons to go on a Yoga Holiday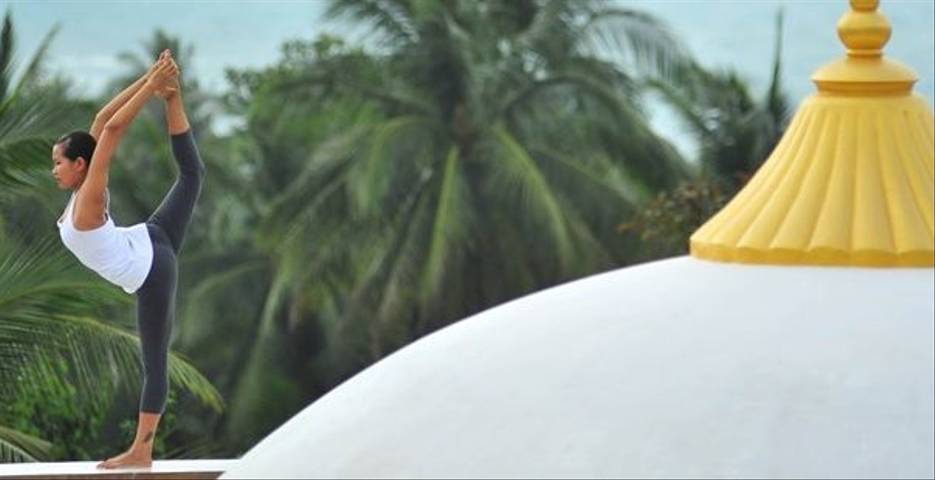 Yoga has taken the world by storm, with over 15 million people now practising this ancient tradition and profiting from its mental and physical benefits. Being much more than just a form of physical activity, a regular yoga practise can also help calm the mind, increase mental and physical awareness, and renew spiritual and physical balance.
If you're looking for a healthy holiday that's focused on reducing stress, anxiety, poor sleeping patterns or other health problems, a yoga holiday may be exactly what you're need. Let a yoga retreat give you the motivation and knowledge you need to continue your healthy habits after your stay, and be inspired to make yoga part of your lifestyle.
With a selection of luxurious and alluring locations from St Lucia to India, you can find the perfect yoga holiday that suits your needs and interests. Read on as we highlight our 10 reasons to go on a yoga retreat, so you can better understand why so many of us are choosing to jet off for a yoga holiday.


1. You'll learn something new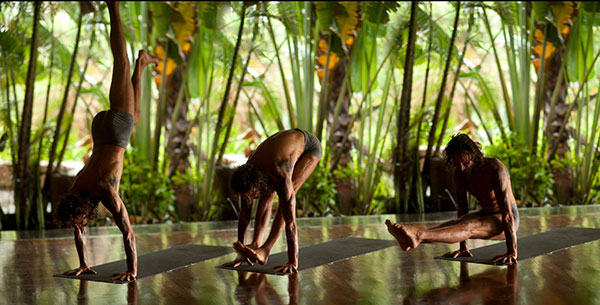 Challenge yourself with Ashtanga yoga

Whether you're a beginner or an avid yogi you can always learn something new on a yoga retreat. With so many styles of yoga, and some of the most experienced teachers, yogis can take this opportunity to try something new, whether it's a challenging pose from the Ashtanga series, or trying a whole new style of yoga like AcroYoga. 


2. Explore new places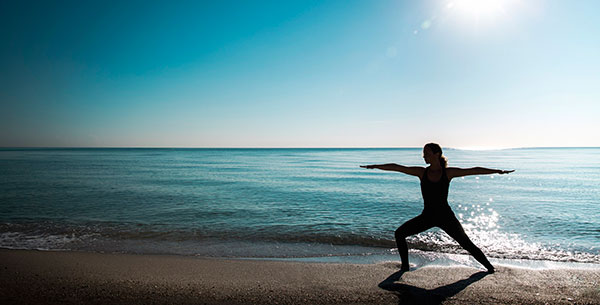 Take your yoga practise to the white sands at Paradis Plage in Morocco
 
Practise against a Himalayan backdrop in India, meditate in the green serenity of the Italian countryside or even try your balance skills against the seaside breeze on a Moroccan yoga retreat; a yoga holiday allows you to get the best of health and culture in one healthy holiday. Maximise your holiday experience and borrow a bike between classes to go exploring in the countryside or nearby town.


3. Recieve personal attention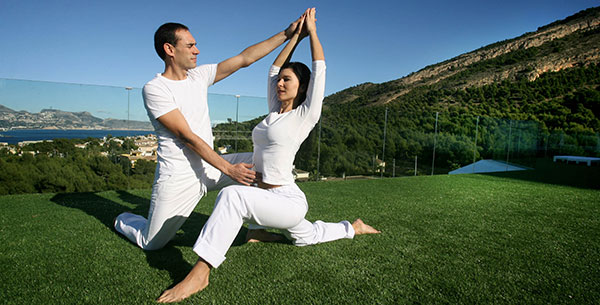 Receive personal attention at SHA Wellness Clinic in Spain

At Health and Fitness Travel, most of our yoga retreats are capped at 8-12 students, and some even smaller, to ensure that our clients receive a yoga holiday that's both enjoyable and personal. Take this opportunity to develop your yoga practise and be inspired to learn from yoga experts who will help you improve.


4. You'll make new friends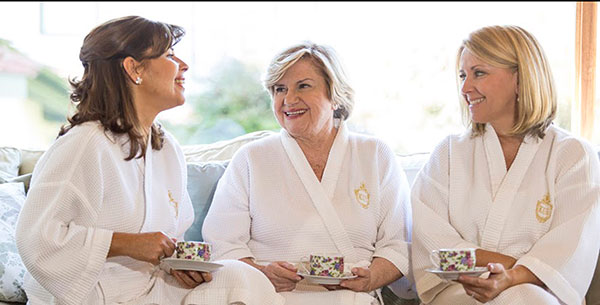 Meet people from around the globe

When you sign up for a yoga holiday, you can be confident that you will meet a group of friendly, like-minded people. Whether you're joining as a solo traveller on a singles yoga holiday or as a couple, a yoga retreat will give you the opportunity to share experiences with people from around the globe, and potentially form lifelong friendships with people who share similar interests to you.  


5. Step outside your comfort zone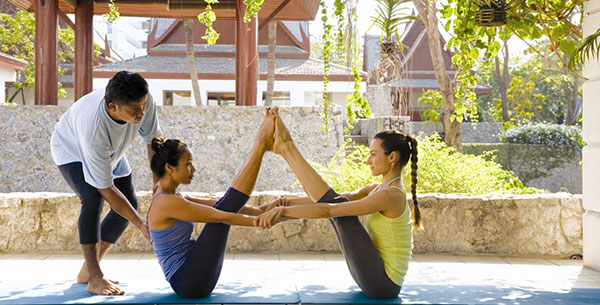 Take a chance to trust, learn and grow at Chiva Som in Thailand

Taking the plunge and doing something outside your comfort zone is how you encourage change and grow personally. With supportive teachers and a beautiful location to practice, a yoga retreat is a great way to step outside your comfort zone and do something different.


6. Get physical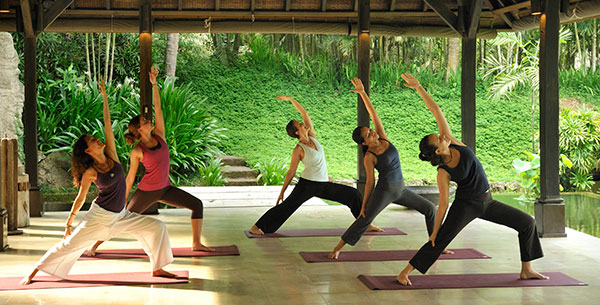 Sweat it out in a group yoga class at The Farm

Stretch, bend, breathe and flow your body to its top physical shape. Over the course of your yoga holiday you will participate in many different high and low intensity classes, and return home looking and feeling amazing.


7. You're guaranteed to eat well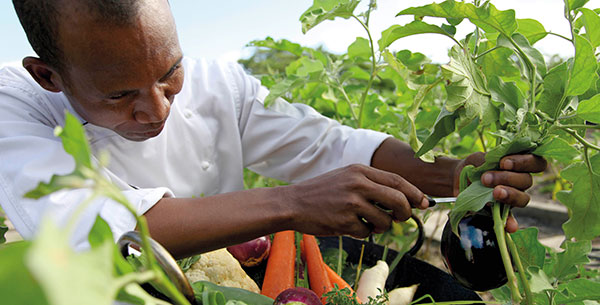 Eat organically at Shanti Maurice in Mauritius

Set within 5* wellness retreat facilities, our luxury yoga holidays provide an array of dining options, all focusing on serving healthy and nutritious meals. If you're looking for a detox holiday or weight-loss retreat, head to one of our specialised yoga holidays that pair their yoga classes with a delicious vegan or raw menu.


8. Clear your mind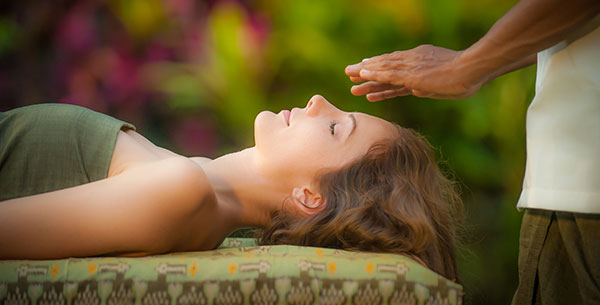 Relax completely with the traditional spa treatments

Be guided with yoga and meditation, learn mindfulness techniques and take time out to reflect in your tranquil surroundings.  If you're looking for holistic spa holiday, complement your yoga programme at the resort spa with traditional Ayurvedic treatments to ensure you maximise your relaxation experience.


9. Digital detox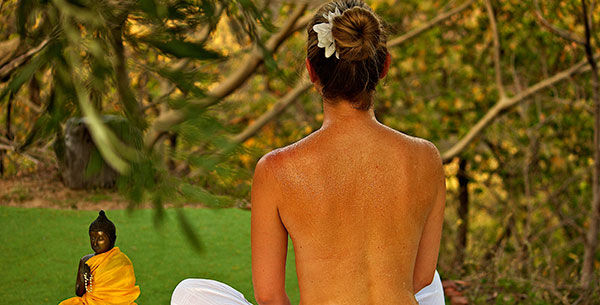 Sweat it out in a group yoga class at Ananda in the Himalayas in India

Most of our yoga retreats encourage guests to leave the laptop and mobile at home to get the most from their yoga holiday whilst combing a yoga and detox retreat. Escape from the monotony of our technology-fuelled lives and take the opportunity to completely detach and relax in nature.


10. Take the vacation with you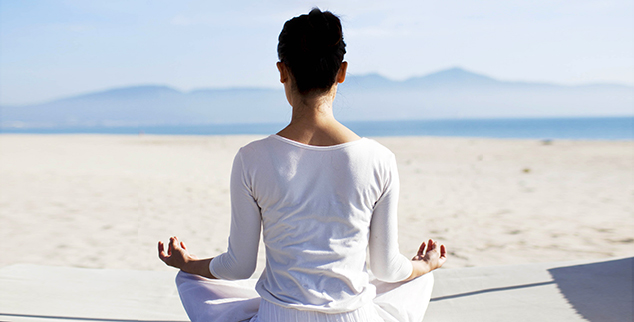 Develop healthy habits at Fusion Maia in Vietnam

Unlike most other wellness holidays which provide week long benefits, most yoga retreats are designed to provide the right tools that guests feel inspired and confident to continue practising by themselves when they return home.
Talk to one of our Travel Specialists on 0203 397 8891 or contact us here to discuss tailor-making your perfect yoga holiday.