A Guide to Healthy Eating and Vegan Food in Bali
23 March 2020

23 March 2020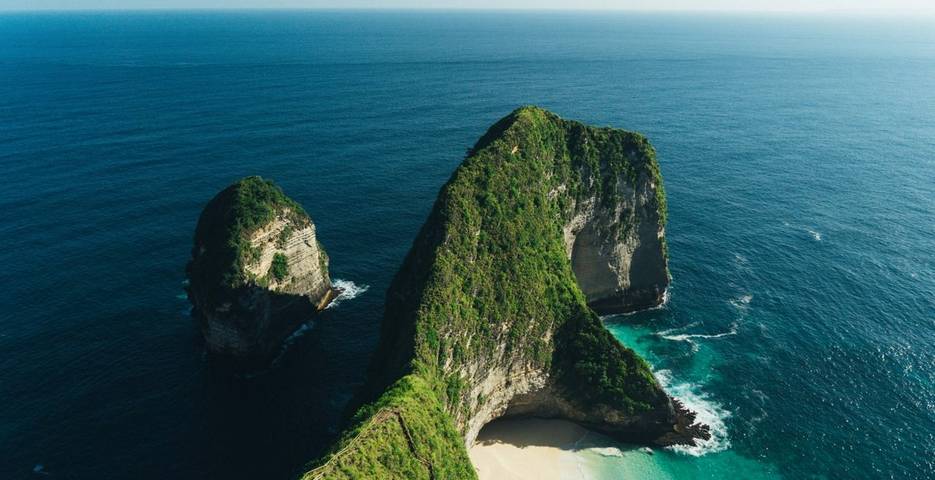 Our Naturopathic Nutrition Wellness Expert Hollie Bailey shares her guide to healthy eating and vegan food in Bali
Why Bali?
Because it's a wellness warrior's paradise! Home to lush tropical forests, dramatic cliffs, white surfing beaches and the most ingenious hotels and spas, Bali is a holistic haven. If you want meaningful culinary experiences, which celebrate local and vegan food, look no further.
Where can I eat?
Bali is blissful for many reasons, of which one is its abundance of world-class vegan cuisine, both local in origin and from afar. It rivals London, Sydney and LA in terms of innovation, sustainability and quality of vegan cooking. There is sheer volume and grandiosity of the vegan and raw food scene on the island.
You will not go hungry or uninspired in Bali with all this access to delicious and nourishing vegan food! The balmy climate and plentiful rains give a plethora of tropical fruits, vibrant vegetables and fresh food to feast upon. Even in the midst of the party tourist areas of Kuta and Seminyak, you will easily find vegan specialties.
Indonesian cuisine comprises a multitude of mild coconut curries, stir-fries and is the birthplace of the popular and nutrient dense tempeh, which livens up many a different dish. Wherever you are on the island, you will find vegan specialties. Local vegan dishes to get our mouths watering are Gado-Gado – a colourful concoction of streamed vegetables, tofu, tempeh, longtong and creamy peanut sauce. Balinese spices are used more sparingly than its Thai or Malaysian cousins, giving a more well-rounded taste bud experience.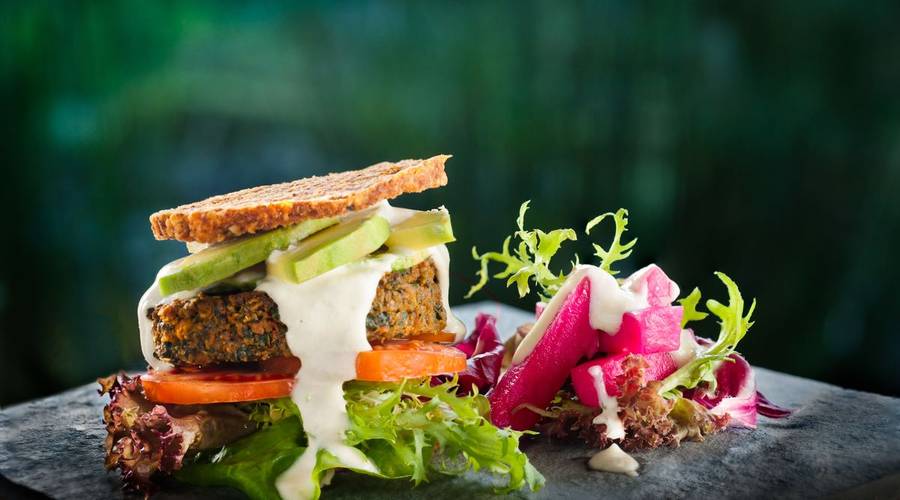 Nasi Goreng, and Mie Goreng (with noodles) another favourite and one which you can smell cooking over a low fire in the balmy evenings, is fried rice with al dente seasonal marinated vegetables. Sounds simple but goodness! How delicious and satisfying.
Black rice pudding is a luscious treat scented with coconut milk and sweetened with palm sugar. Vegan and gluten free, this is a traditional Indonesian breakfast and also enjoyed as a dessert.
Tip: Check that you meal is prepared without fish sauce. Also in some areas of Bali, eggs are considered a 'vegetable' so ask for yours egg-free!
Ubud, the jungle and rice paddy blanketed capital of Balinese arts and culture is a must-stay for vegan food lovers. The best thing about Ubud is that you do not need to learn local phrases to explain your vegan diet. Vegan friendly restaurants, cafes, bars and even ice-cream stalls (coconut based of course!) are prolific, making Ubud THE perfect vegan friendly destination. It's absolute pleasure to walk into cafés and be greeted with culinary delights such as rose cashew raw chocolates, reishi latte, vegan sushi and matcha choco coconut pudding! Some cafes are so laid back, you will be greeted with a shoes-off, cushion covered den of interesting people, desirable food and delectable natural furnishings.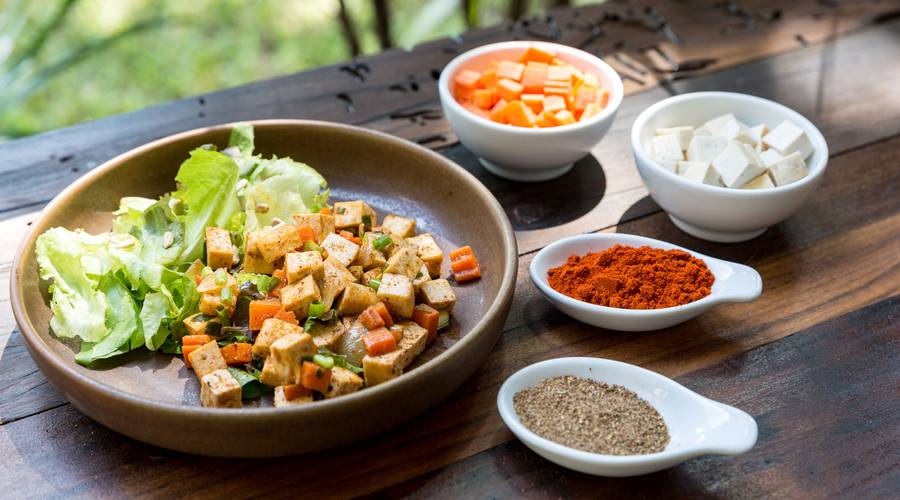 For those vegan or veggie enthusiasts Ubud is surely the winner.
Sayuri's – A firm favourite with travellers and ex-pats and one of the places for meetings, first dates and somewhere to sip your matcha latte and munch through a budha bowl while you sit in the garden or their swinging chair. They have also recently built their own intimate yoga shala. Named after the owner who is Japanese, they are famous for their cooking classes and raw food chef qualification.
Down to Earth Cafe – With a café and food market downstairs and the world's only vegan cinema, which often doubles as an ecstatic dance floor, this is an absolute must.
Sage – Famous for its jackfruit burritos, it's the kind of restaurant where you would travel a great distance to eat in again. It's a popular date night spot for ex-pats, which is unsurprising due to its scrumptious menu and 3-layer chocolate cake.
Moksa – A garden – to plate experience where the owner focuses on permaculture and sustainability, this is the place to go for some inspiration to take back home to your kitchen. Try the durian ice-cream (!) and jackfruit tacos for a real experience!
The Elephant – Overlook the Camuphan River and nestle with a book or your laptop nibbling on homemade rabbit salad, vegetable juices or rice paper rolls.
Seeds of Life – This is a popular hang-out for yogis, spiritual gangsters and health enthusiasts. The owner Ben has created such an innovative menu that he has founded a nutrition school, educating people on the health of raw foods and how to create magic (Raw Food Chef Certification & Training course). At the back of the café stands a cosy tea temple where you can sample weird and wonderful ingredients.
Soma – Lounge on red couches, play instruments and be serenaded by the owner on the saxophone while eating raw pizza and sipping the local jamu (turmeric goodness!) and thinking good intentions is a perfect way to spend the afternoon.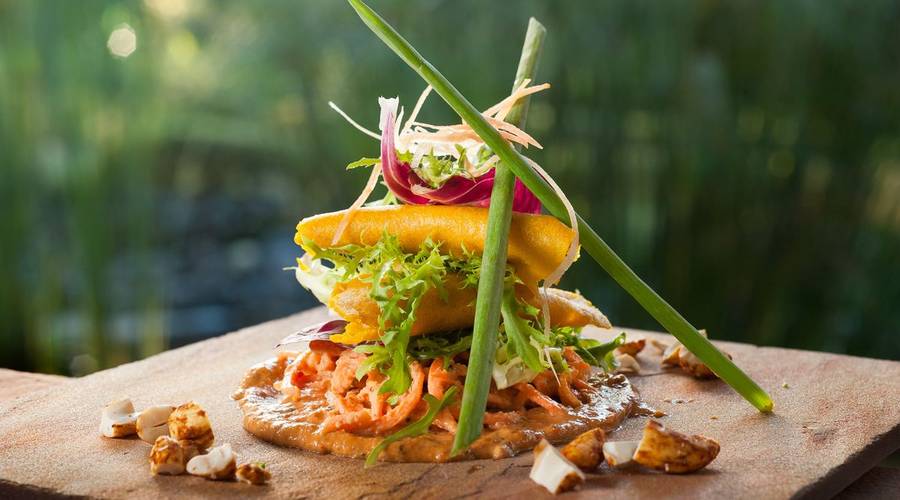 Uluwatu:
La Baracca – A rustic Italian vegan friendly cosy restaurant with pretty fairy light lit gardens and authentic comfort food.
Cashew Tree – Walking distance from Bingin Beach, al food is locally sourced and features delights such as homemade kombuca, raw coconut desserts and soba noodles. Once a week it is turned into the place to party with live music and dancing. Luckily there is plenty of cacao to keep you going!
Kelly's Warung – By far the best coconut nice-cream smoothie I have ever encountered and thus far failed to re-create, even though it just has a few ingredients! Sip this while watching beautiful people surf on the shallow reefs of Bingin Beach. Simple, hearty and healthy food for a post surf or lazy day.
With more and more tourists falling deeply in love with Balinese tastes, there are many fantastic local cooking classes where you can see a multitude of ingredients like spices, herbs, banana leaves, palm sugar and unusual vegetables spread before you in a vegan's paradise feast. Cooking holidays and nutrition retreats are such a great way to get inspired by bringing home a taste of your holiday into your own pantry.
If you're a wellness warrior with a taste for all things green, Bali is one of the most vegan-friendly places in the world with plant-based local and international cuisine. It truly is a vegan heaven with an array of choice and more venues opening all the time! You can discover this magnificent destination with a wellness tour of Bali.
This little review is by no means conclusive, but I hope it gives you a taste for the delights on offer in the island of the Gods, Bali.


Talk to one of our Travel Specialists on 0203 397 8891 or contact us here to discuss tailor-making your perfect Wellness Holiday.