8 Fantastic Fusion Fitness Retreats in Europe
16 July 2018

16 July 2018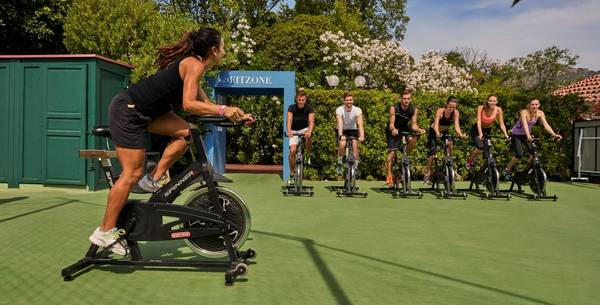 Awaken your senses and strengthen those muscles on our Fusion Fitness™ retreats in Europe. With a wide range of action-packed activities to choose from and renowned fitness and wellness facilities, these superb retreats have something for everyone. Give yourself a physical challenge with these tailor-made activities and enjoy personalised one to one activities and treatments for the ultimate fitness escape. From strength training in Croatia to golfing in Italy, you don't have to travel far to find your ideal fitness getaway and create lasting memories whilst you're at it.


 Explore your beautiful surroundings on a cycling trip

Enjoy breath-taking landscapes and superb Mediterranean food at this stunning retreat in Turkey. Make the most of your surroundings with cycling, kayaking and hiking for an adventure holiday of a lifetime. With a wide range of activities to get your blood pumping, be sure to relax your muscles at the end of the day in the stunning Six Senses spa. Enjoy a deep tissue massage and cocoon wrap to relax your mind and body and prepare you for the action-packed days ahead.
More information: View Six Senses Kaplankaya


  Stay active with a spot of tennis at Sun Gardens Dubrovnik 

Located on Croatia's photogenic Adriatic coastline, this healthy holiday and spa provides a variety of classes, activities and treatments, which fall into our four focus categories:  Cardio, Strength & Sport, Mind & Body and Renewal. Mix and match 4, 7 or 10 of these one-on-one sessions to create the fitness holiday package that best suits you so that you can achieve your personal wellness goals. In addition to enjoying things like yoga, kick boxing, and holistic massage, you can also look forward to up to 12 restaurants and bars serving delicious food and drinks.
More information: View Sun Gardens Dubrovnik


 Discover the crystal clear waters of Greece by indulging in the wide range of water-sports at your disposal

Choose a combination of activities and treatments from all four of our categories; you can work on cardio with aqua jogging, use body weight training to increase your strength, quiet your mind with guided meditation and renew your system with a deep tissue massage. Each of your choices will be delivered on a personalised all-inclusive programme, so can be sure you will get the personal attention and guidance you need to become fitter and healthier. By the time you leave this luxurious retreat, you will feel thoroughly revitalised.
More information: View Porto Elounda


Relax your mind and body with some yoga in Portugal 

Our luxury active holidays in Portugal are a great way to accept new fitness challenges and achieve a healthier lifestyle. Get into shape and have fun on a Fusion Fitness™ holiday at Martinhal Beach Resort & Hotel. With this retreat, you can choose one-on-one treatments and activities from our four fusion categories to create a fitness experience that matches your interest. Make the most of the area's splendid beaches with surfing lessons, get a cardio workout on a guided bike tour, limber up with assisted stretching and relax with a fitness massage.
More information: View Martinhal Beach Resort


 Get competitive on this stunning golf course at Argentario in Italy

This Fusion Fitness™ holiday in Italy offer guests another great chance to personalise their fitness experiences. With all the options available at this retreat, it is easy to create a well-rounded approach to enhancing your own wellbeing. After you take advantage of the striking coastal location with a beach run, you can treat yourself to a deep tissue massage for a rejuvenating de-stress holiday experience. If you prefer golf, you can improve your game on their superb course and then calm your mind with guided meditation.
More information: View Argentario Resort


 With rolling hills and beautiful seas, Cyprus is the perfect location for some much-needed relaxation 

With this flexible fitness holiday, you can pick 4, 7 or 10 different one-on-one treatments and activities that focus on your aims. You will have a wide variety of multi-activity holiday options spread out over our four fusion elements. So, while you soak up the island setting of southern Cyprus, you can also enjoy sports like tennis, renew your skin with a re-hydrating facial or focus your mind and body with a yoga session. No matter how you choose to exercise or unwind, the dedicated staff at this sports and leisure retreat will give you the personal attention you need along the way.
More information: View Aphrodite Hills


Enjoy the ultimate country retreat at Grayshott Spa

Create a unique fitness plan on our Fusion Fitness™ break at Grayshott Spa. At this cosy award-winning spa, set amid 47 acres of quaint English gardens and countryside, you can select a range of one-on-one activities and treatments that aim to improve your health and help you relax. Whether you prefer swimming over power walking, or strength training over golf lessons, Grayshott Spa offers a healthy break that allows you to revitalise your system in the way that best suits your needs. You can also take advantage of complimentary exercise classes like aqua fitness and Pilates.
More information: View Grayshott Spa


 Running up the hills of Portugal is sure to get your blood pumping! 

Create your dream wellness adventure getaway with a range of activities and treatments on our exclusive Fusion Fitness™ retreat at Penha Longa. On this trip, you can select a variety of private treatments and activities to customise a holistic fitness solution that suits you. And whether you enjoy labyrinth meditation, holistic massage, squash lessons, or water fitness, each session will be private and personalised to your needs. You can, however, also take part in group retreat activities for a more social experience in the company of other like-minded travellers.
More information: View Penha Longa


Talk to one of our Travel Specialists on 0203 397 8891 or contact us here to discuss tailor-making your perfect Fusion Fitness™ holidays .
You might also like