Try a Detox Holiday in Asia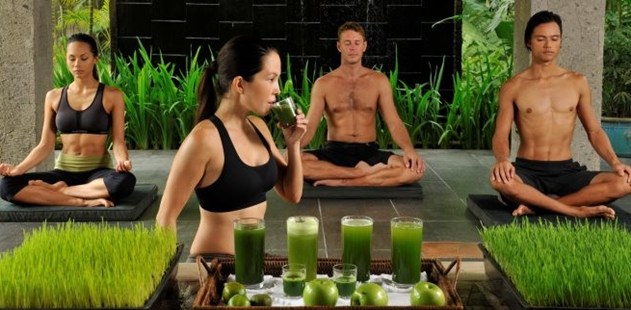 A detox holiday is a fantastic way to cleanse your body, clear your mind and improve your health. Asia is the spiritual home of healing and many people travel to this expansive continent to achieve emotional and physical wellness. The idea of a detox holiday may sound a daunting prospect but nothing could be further from the truth; choose from a variety of carefully chosen treatments and holistic activities to compliment a personalised fresh and healthy diet. Detox holidays can vary and are tailored around your needs; you may spend the time on a special diet supplemented with exclusive spa treatments at a specially designed type of spa, or if you'd prefer, you could spend your time exercising and working up a healthy sweat.
Whether you take detox holidays on a regular basis or you are looking for your first one, Asia is one of the best places to go. It's an experience that will make you want to come back for more. Therefore we've handpicked some of the best detox holidays to be found in Asia, to ensure you get the very best out of your healthy holidayand come home feeling as revitalised as possible.
Thailand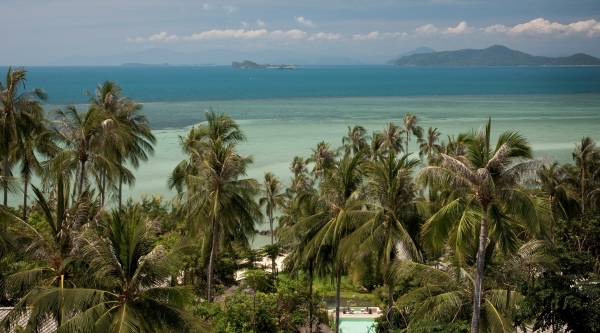 Thailand is famed for its lush rainforest, beautiful beaches and crystal clear waters
Thailand is one of the most popular destinations in Asia for a number of reasons and it should be one of the first places you look into if you're looking to detox. The lush rainforests, beautiful beaches and crystal clear waters are the perfect place to relax and de-stress away from the worries of modern life. Buddhism is the major religion with 95% of Thais subscribing to it and therefore it comes as no surprise then that the ideals of spiritual wellness are ingrained into daily life, perfect for those looking for a detox. In fact, in Thailand it's easy to remove yourself from the modern world and all its temptations and get back to good, simple food in beautiful surroundings so you're ready to return to normal life with a fresh outlook.
Thailand is a large country but the rainy season is generally between May and October when the humidity is high and monsoons are commonplace, especially in the south east. During this time of year, the temperature is usually between 25C and 35C and due to the humidity is quite sticky. The dry season is between November and April, with March often being the hottest month. If you struggle with the heat then December through to January are the coolest in most parts of the country. Thailand is popular all year round and it's often easiest to fly to Bangkok and then on to your healthy holiday destination.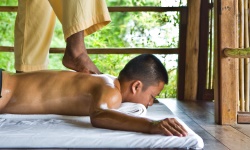 Begin your
spa holiday
at Kamalaya with a special consultation where you can discuss any well-being goals you might have, and structure a
personalised detoxing diet
plan. Located on the south coast of the tropical Koh Samui, this award-winning wellness retreat is famed for its holistic approach to the needs of its guests. Indulge in spa treatments from Chi Nei Tsang to a detox scrub & wrap, and rejuvenate both body and mind.
With daily massages and a structured cleansing diet, a detox holiday at Chiva Som is a luxury experience. Learn to live a cleaner lifestyle, and release harmful bodily toxins that can be detrimental to your physical and spiritual health. Signature therapies include lymphatic drainage and colonic hydrotherapy; perfect for cleansing and healing the body. Detoxify your mind with complimentary classes including
Pilates
and yoga, and clear your mind of stresses and built-up emotions.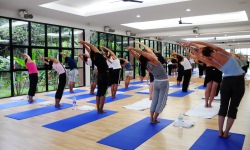 Using a combination of detoxing drinks, supplements and natural therapies, this tropical oasis offers guests a range of holistic wellness programmes. You are offered up to 4 detox drinks a day, along with coconut juice and unlimited broth soups; all designed to improve your digestion and leave you feeling re-energised. Absolute Sanctuary is also known for its comprehensive
yoga holidays
, with a mixture of styles and multiple complimentary classes every day.
Bali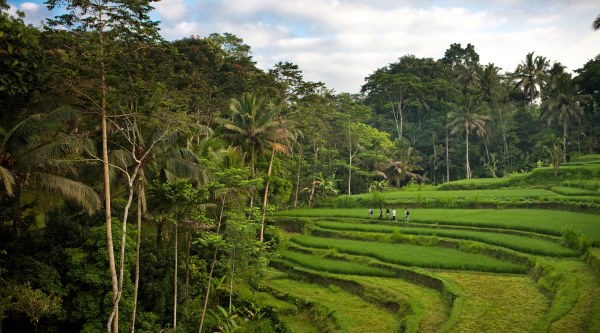 The rice fields and rainforest near Como Shambhala Estate in Bali
Bali is often a byword for paradise and is one of the most beautiful parts of South-East Asia which is also renowned for its rich cultural heritage, especially in music and the arts. Like Thailand, Bali is one of the major tourist hotspots in South East Asia. For a detox holiday it is perfect with stunning beaches and rainforests. Unlike the rest of Indonesia, Bali is predominantly Hindu and the culture is very heavily influenced by the idea of spiritual well-being, especially with yoga. Bali is quite similar to Thailand in many respects and that's why it's also the perfect spot for a detox.
Most flights to Bali land in Denpasar and direct flights from London are quite frequent. Bali is located just 8 degrees below the equator and consequently maintains a temperature of over 30C all year round, with December, January and February experiencing significantly more rainfall.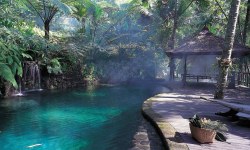 Cleanse your body of toxins with a choice of healing therapies and a diverse menu of fresh and nutritional detox cuisine. Take advantage of the multi-award winning Como Shambhala Spa, where you can indulge in luxury treatments which will help remove an accumulation of harmful toxins from your body. The meals at the resort's restaurants can be personalised to your specific detoxing goals and tastes, so you can improve your body's natural defence system whilst enjoying mouth-watering and healthy Asian-inspired cuisine.
India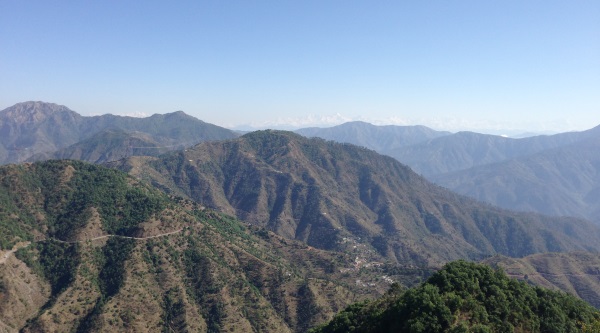 The foothills of the Himalayas provide the perfect sanctuary for a detox holiday
India is the birthplace of yoga and it should come as no surprise that some of the best detox holidays in the world can be found in this amazing country. You could write a whole book on India and still not be able to cover everything as this truly is one of the most astounding countries in the world. From the tropical rainforests in the east, to the Himalayan foothills in the north and the pristine beaches of Goa in the west, India has everything. For detoxing, nothing comes close to spending time in the vicinity of the greatest mountain range on earth. The Himalayas offer the ultimate destination to escape the modern world and focus on you. Not only are they an incredibly stunning and relaxing place to be, they also offer the ultimate playground for activities such as hiking, running, climbing and swimming.
The major cities of India include Mumbai, Delhi and Bangalore and you can easily find your own flights to India from the UK.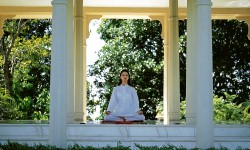 Set in the foothills of the Himalayas, Ananda's beautiful scenery adds to the healing power of the resort's detox programme. Enjoy exclusive healing treatments including hydrotherapy baths, Abhyanga,
Ayurveda
and Nasya, alongside complimentary daily wellness classes performed with stunning views of the scenic backdrop. The key to an effective detox is to improve blood circulation and the efficiency of the lymphatic systems, and
Ananda
structure their programmes around addressing all areas of holistic healing.
Philippines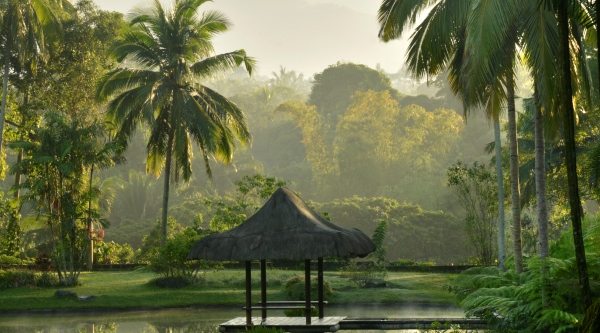 The fresh and organic environment at The Farm in the Philippines
The Philippines is one of the largest and also most diverse nations in South East Asia, melting European, Hindu, Islamic and Malay cultures into one distinct country. The Philippines is formed of over 7,000 islands and its tropical nature makes such a diverse country in terms of flora and fauna.
As a destination for a detox break it's up there with the best. Like Thailand and Bali, it benefits from lush rainforest and secluded beaches. In fact, many of the islands are sparsely inhabited and provide the ideal retreat to relax. Tropical birds in particular are in abundance in the Philippines due to the general lack of large predators.
The Philippines is also a special place for your diet; the mix of Chinese, Thai, Indian and Malay cultures has resulted in a cuisine that can't be found anywhere else. You might even get some inspiration for your own cooking when you get back home. For natural, healthy and tasty food, it's hard to find better.
The climate of the Philippines is hot all year round with temperatures between 20C and 30C. January is the coldest month and May is generally the hottest. The Philippines is susceptible to monsoons during May to October.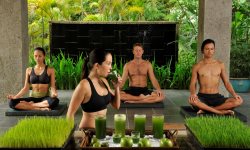 Detox your mind and body at The Farm in the Philippines, restore balance to your life and improve your well-being. Tailor your detox holiday around you, and include a range of cleansing treatments as well as fresh, raw vegan cuisine to leave you feeling renewed and revitalised. Consultations with a medical doctor and personal trainer will not only help you achieve your goals at The Farm, but also set you up to improve your lifestyle and nutritional choices after you leave.
For more information on The Farm at San Benito, talk to one of our Travel Specialists.
Talk to one of our Travel Specialists on 0203 397 8891 or contact us here to discuss tailor-making your perfect detox holiday
.